28 Jun — 5 Jul / 2021
Weekly News Digest #26
announced deals' size

$878.7m
Sony Has Bought Two Game Developers And Is Rumored To Acquire One More
M&A
Dream Games Has Raised $155m At $1B Valuation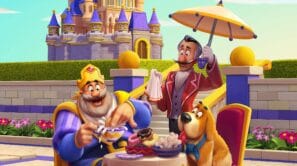 SERIES B
Modern Times Group (MTG) Has Acquired PlaySimple For Up To $510m
M&A
Sony Has Bought Two Game Developers And Is Rumored To Acquire One More
Housemarque — Another Step in A 15 Year-Long Relationship
On July 29, Sony Interactive Entertainment has announced the acquisition of Finnish studio Housemarque, the developer of Returnal and Resogun, for an undisclosed sum. The companies have been working together on eight PlayStation exclusives during the last 15 years — their most recent project is a third-person shooter and a roguelike Returnal for PS5.
The first joint venture of the companies was Super Stardust HD — shoot 'em up released in 2007 on PS3, which became the first title with trophy support on the console. Since then, Housemarque and Sony have released top-down shoot 'em up Dead Nation, side-scrolling shoot 'em up Resogun, shooter with RPG elements Alienation, and side-scrolling shooter Matterfall among other games. The games of the company mostly received positive reviews from both critics and audiences, but Housemarque hadn't released any hit game — until this year.
The studio's first AAA title Returnal, a third-person bullet-hell roguelike, was developed for and released exclusively on the PS5 in Apr'21. The game received mostly positive reviews and reached #3 and #4 in sales that month in US/Canada and Europe respectively, and #2 and #3 in US/Canada and Europe respectively in May'21. The results are impressive, especially since the game is not based on an established franchise, lacked heavy marketing, and was released at the same time as an extremely hyped-up Resident Evil VIII.
The acquisition of Housemarque allows the studio to use Sony's vast resources to tackle bigger projects in the future. Housemarque also wants to secure its legacy as one of the oldest game studios in Finland with the help of SIE.
Nixxes Software — PC&console Porting And Technology Support
Soon after, on July 1, Sony has acquired Nixxes Software, the Dutch studio that specializes in video game porting and optimization, responsible for PC ports of the new Tomb Raider trilogy, Hitman: Absolution, and two latest Deus Ex games. The sum of the deal was not disclosed either.
Getting Nixxes' porting capabilities is a logical step for Sony, which has recently started actively releasing its previous exclusives on PC: Detroit: Become Human, Death Stranding, Horizon Zero Dawn, and Days Gone has already been successfully published on PC, reaching a new audience and gaining a second life.
Now Nixxes can support other teams and work on some of the biggest IPs in the industry. Often, Nixxies works on the games while they are still under development so that the ports are available upon release. However, it is unlikely that Sony will use this opportunity since the exclusives (at least temporal) is an essential part of the company's bigger strategy.
Rumors — Sony May Be In Talks To Acquire Bluepoint
While all the local Twitter accounts of PlayStation were announcing the Housemarque acquisition on July 29, PlayStation Japan published a now-deleted tweet welcoming Bluepoint, the studio behind the remakes of Demon's Souls and Shadow of the Colossus. The tweet was soon deleted, but now we have all the reasons to wait for more news regarding the possible acquisition.
Written by Andrei Zubov
Dream Games Has Raised $155m At $1B Valuation
Turkish mobile games developer Dream Games has raised $155m in a Series B funding round that values the startup at $1B. The round was co-led by Index Ventures and Makers Fund, with the participation of Balderton Capital, IVP, and Kora also participating.
Several months ago, in Feb'21, Dream Games has closed the largest Q1'21 early-stage deal and the largest Series A round by Turkish mobile game studio, which was was also led by Index Ventures.
According to AppMagic, the game has been downloaded more than 12.7 million times with more than a third of this number generated in Jun'21. Since its soft launch in Jul'20, the game has generated more than $38.6m in Revenue through in-app purchases. However, the absolute majority of the downloads have been generated since Mar'21, when the game had its official global launch. As we can see in the chart, the numbers have been skyrocketing for the last four months, and this is one of the reasons for such a high valuation.
Written by Andrei Zubov
Modern Times Group (MTG) Has Acquired PlaySimple For Up To $510m

Stockholm-based investment holding company with assets in esports and gaming Modern Times Group has acquired Indian word games developer PlaySimple for up to $510m, including:
— $360m upfront, paid 77% in cash and the rest in Class B MTG shares
— $150m earn-out consideration paid in cash if certain undisclosed targets are met by PlaySimple
According to PlaySimple's financial performance in 2020 (Revenue of ~$83m and Adj. EBITDA of $18m), the transactions multiplies are:
With the acquisition, MTG expands into a new niche genre — F2P word games. Currently, there are 9 live word games in the PlaySimple's portfolio with a total of 75 million installs and 7 million MAU. Some of the best-performing games are Word Trip, Daily Themed Crossword, Crossword Jam, and World Wars. In 2021, PlaySimple is planning to release four new games. The company will also diversify into card games in the nearest future.
The acquisition clearly becomes one of the largest exits, when it comes to Indian startups. Since its inception in 2014, PlaySimple has raised a bit more than $4.5m with the latest $4m Series A round closed in Nov'16 with participation from Elevation Capital and Chiratae Ventures.
The acquisition will help MTG to expand further and strengthen its position in the casual gaming sector. However, this is still the entirely new niche of word games for the company, which goes in line with MTG's active inorganic growth strategy, based on acquisition across various genres and regions. This year, the company has already closed 2 acquisitions, buying New Zealand-based mobile tower defense games developer Ninja Kiwi and England-based mobile racing games developer Hutch (announced in Dec'20).
Written by Andrei Zubov
 MERGERS & ACQUISITIONS
US-based gaming communication platform Discord has acquired US-based AR Startup Ubiquity6 for an undisclosed sum. As part of the deal, Ubiquity6's video chat with mini-games Backyard will be integrated into Discord.
US-based video game company Take-Two Interactive Software has acquired facial motion capture tech company Dynamixyz for an undisclosed sum. Dynamixyz will operate as a division of Take-Two and work exclusively with the сompany's publishing labels and studios.
Korean games publisher and developer Krafton has acquired Korea-based interactive content production company Thingsflow best-known for its chat-based content platform Hellobot. The platform has more than 4m users in Korea and Japan as of May'21.
Canada-based esports company GameSquare has acquired another esports US-based company Complexity Gaming. Former Complexity shareholders will own 47% of GameSquare shares and will invest an additional $8.5m as a part of the deal.
German-based esports and gaming marketing agency Freaks 4U Gaming has acquired Italy-based esports and event management company ProGaming Italia for an undisclosed amount.
Tencent-owned Funcom announced that it has acquired a majority stake in Sweden-based game developing studio The Outsiders for an undisclosed sum. The company has already been working together on an upcoming rhythm FPS Metal: Hellsinger — the game is planned to be published by Funcom this year.
VENTURE FINANCING
Ireland-based PC-games developer Vela Games has raised $1.8m in a Series A round led by Novator. The funding will be used for the further development of the upcoming multiplayer co-op game Project-V.
UK-based game developer Talewind has raised $0.8m of funding to create games for the Roblox platform. In Jan'21, the studio was accepted into the Roblox accelerator program.