25 Apr — 1 May / 2022
Weekly News Digest #18
announced deals' size

$27.5m
Embracer acquires ​​Crystal Dynamics, Eidos-Montréal, and Square Enix Montréal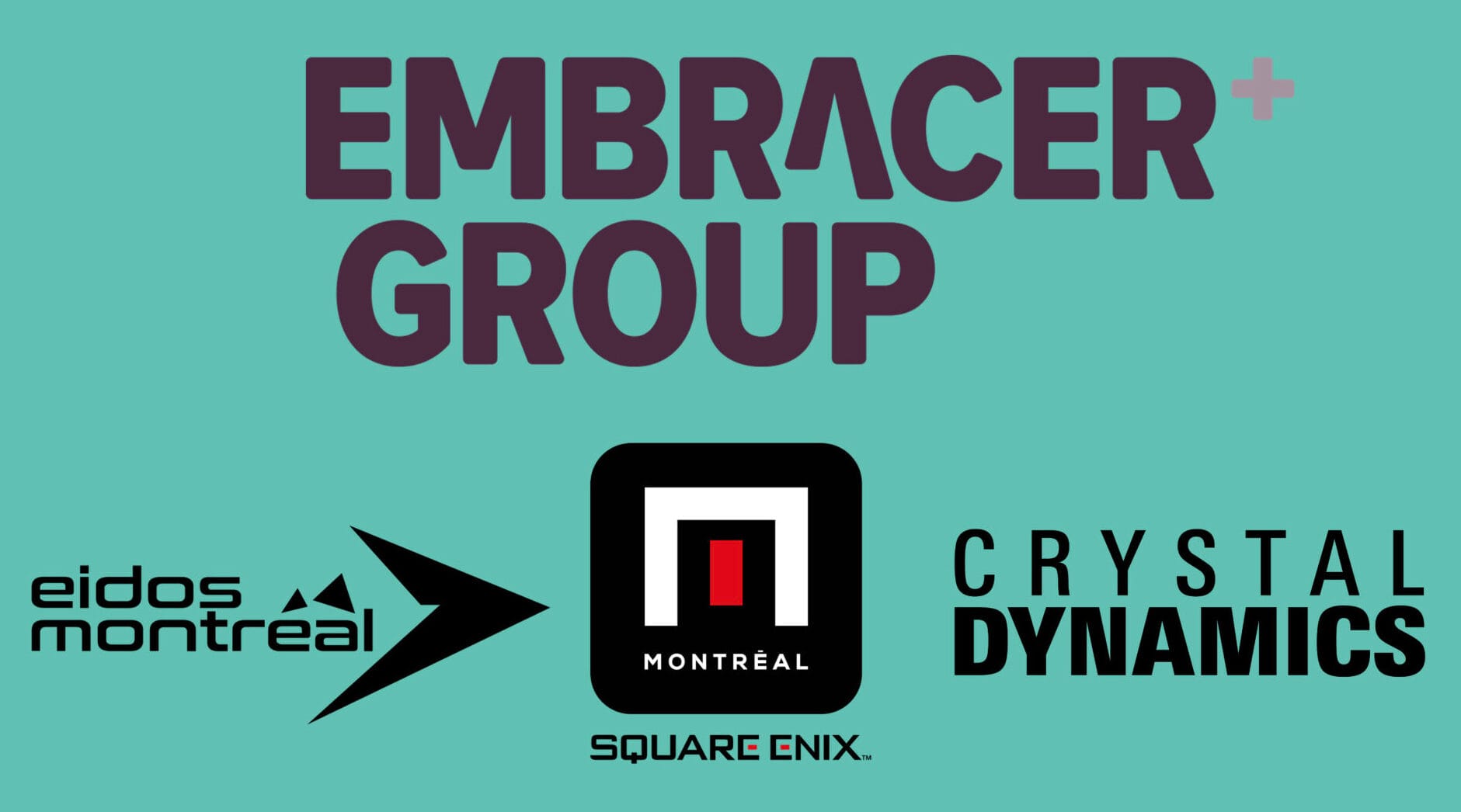 Sweden-based video game holding company Embracer Group (SSE: EMBRAC B) has entered into an agreement to acquire three game development studios: Crystal Dynamics, Eidos-Montréal, and Square Enix Montréal. The overall transaction deal value is $300m on a cash and debt-free basis, paid upon the closing of the deal. The deal is still subject to regulatory and other external approvals, and is expected to be closed in Q3'22.
Strategic Rationale
With the acquisition, Embracer Group gets an experienced team of ~1100 full-time employees across 8 offices. Despite the geographic spread, most of the employees are based in Montréal, which significantly expands Embracer's presence in Canada. Alongside the studios, Embracer also acquires several renowned IPs, including Tomb Raider, Deus Ex, Thief, and Legacy of Kain, as well as more than 50 back-catalog titles from Square Enix Holdings. These iconic franchises can boost the overall recognition of Embracer's portfolio, as well as provide the company with a massive pipeline, due to the vast audience of the above-mentioned games.
In several years, after new games from the pipeline are released, the studios are expected to generate around $51m (SEK 500m) of Operational EBIT per year together, with a potential to increase the number in the future. Embracer plans to invest further in the acquired studios and expand the acquired franchises, using its internal collaboration opportunities and development capabilities. We shouldn't forget that Embracer also has several media companies under its wing, with Koch Media as the head of the operating group, — this can fuel transmedia opportunities for the to-be-acquired franchises.
As for Square Enix, the deal is most probably the way to adapt and optimize its strategy. The company finished its Tomb Raider trilogy in 2018 with Shadow of the Tomb Raider, and canceled Deus Ex: Mankind Divided sequel, leaving the plot of the series unfinished. They later created a premium GaaS Marvel's Avengers, which failed to reach the expected numbers, despite the extremely strong IP. The latest game developed by Eidos Montreal, Marvel's Guardians of the Galaxy was well received by the audience and the critics but still couldn't achieve the targeted sales. Hence, there might have been some obvious problems, as well as a lack of understanding of how to further develop the franchises. Having a vast audience waiting for the new games and the sequels of their beloved franchises is quite a burden, especially when you want to focus on something entirely new, which is exactly what Square Enix is about to do. The company has recently stated that it wants to explore blockchain, AI, and cloud opportunities. This doesn't mean, however, that Square Enix won't continue to support and work with the remaining franchises, such as Final Fantasy, Just Cause, Outriders and Life is Strange, while also allocating more resources towards its Tokyo-based organization to maximize overseas publishing Revenue. Thus, selling the old assets is the way Square Enix might start anew and rethink its strategy.
Studios Overview
Eidos-Montréal
Eidos-Montréal was founded in 2007 by Eidos Interactive, and then acquired by Square Enix in 2009. Since then, the company has developed the reboot of Thief, Shadow of the Tomb Raider (the third game in the new Tomb Raider trilogy), and Marvel's Guardians of the Galaxy game. The company is also known for two prequels to the original Deus Ex game: Deus Ex: Human Revolution and Deus Ex: Mankind Divided (together, the games have been sold more than 12 million copies). At the moment of acquisition, the company had 481 employees.
Crystal Dynamics
Founded in 1992, Crystal Dynamics is a AAA games developer and publisher that worked on a vast number of acclaimed titles for PC and several generations of Nintendo, Sega, and Sony platforms. In 1998, the studio was acquired by Eidos Interactive. As a part of Eidos, Crystal Dynamics developed several acclaimed titles, including Legacy of Kain: Soul Reaver, Soul Reaver 2, and four Tomb Raider games published during the 2006-2008 year period. In 2009, both Crystal Dynamics and its parent company Eidos were acquired by Square Enix Holdings. While in Square Enix, the studio has developed two games from the Tomb Raider reboot trilogy and Marvel's Avengers, among a few other titles. Overall, Crystal Dynamics games have been sold 88 million copies, 38 million of which came from the reboot trilogy. Today, there are 273 developers working in the studio.
Square Enix Montréal
Founded in 2011 by Square Enix, Square Enix Montréal is a multiplatform games developer with 160 employees on board. The company has created three puzzle games, Hitman Go, Lara Croft Go and Deus Ex Go, as well as the fixed shooter Hitman: Sniper. The games are made primarily for mobile, though some of them are also available on PC and consoles.
Embracer's new debt financing 
To finance the transaction and support future M&As, Embracer has secured long-term debt funding commitments of ~$404m (SEK 4B), and extended one existing loan of ~$606m (SEK 6B) with three banks: Nordea, SEB, and Swedbank. Now Embracer has over $1B (SEK 10B) of cash and credit facilities to finance the future acquisition pipeline, so we are expecting to see more deals from the company in the near future.
*This deal is not included in our header count, as it was announced this week, and thus will be tracked in our next digest.
---
We want to thank Hiro Capital and The Games Fund for supporting this digest.


---
MERGERS & ACQUISITIONS
US-based franchise growth accelerator Unleashed Brands has acquired US-based youth esports franchise XP League. Financial terms of the deal are not disclosed. Unleashed Brands will function as a parent company, while XP League will continue its esports activity for elementary, middle, and high school students.
Czech-based B2B esports betting solutions provider Oddin.gg acquires Netherlands-based esports advertising agency Thousand Lives. Financial terms of the deal are not disclosed. Following the acquisition, Thousand Lives will be rebranded as Jotun.gg, and will focus on providing marketing services for Oddin.gg clients.
Cyprus-based video game outsourcing company Room 8 Group acquires Brazil-based outsourcing art for games company PUGA Studios. Financial terms of the deal are not disclosed. The acquisition is following the Room 8 strategy to expand its presence globally. Last month the company acquired US-based art and illustration company Massive Black.
VENTURE FINANCING
Singapore-based multi-platform games developer Virtuos announced an investment in up-and-coming Canada-based game development studio Umanaïa. Financial terms of the deal are not disclosed. The funding will be used toward hiring staff, since the studio aims to create modern and innovative live games, with a goal to release the first title in a few years.
Seychelles-based online platform for cryptocurrencies trading KuCoin is investing up to $1m in SakuraVerse, a new gaming platform that specializes in developing infrastructure for web3 games. The funding will be used to drive the growth of the Sakura platform, as well as the team and development of popular games.
Belgium-based blockchain company Venly has raised $23m in funding. The round was led by Courtside Ventures, with participation from Transcend Fund, Coinbase Ventures, Tioga Capital, and others. For the blockchain projects users, Venly offers digital wallets to store assets on different blockchains. The funding will be used towards hiring more staff and further company growth, since it is planning to launch an accelerator track for game studios and web3 startups.
NFT-programming layer startup Revise has raised $3.5m in funding. The round was led by Alpha Wave Global and 8i, with participation from others. Revise offers developers the rails to program NFTs to interact with apps and data. The funding will be used to hire more staff and for the company's expansion.