5 Sep — 11 Sep / 2022
Weekly News Digest #37
announced deals' size

$509m
Tencent invests $297m in Ubisoft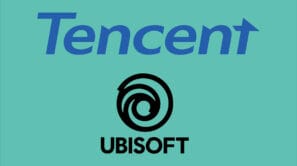 Tencent (SEHK: 700) has acquired a 49.9% stake in Guillemot Brothers, the company of the founders and the largest shareholders of France-based Ubisoft (EPA: UBI).
Transaction  Details
The investment size is $297m (€300m), including a $198m share acquisition and a $99m capital increase. The deal values Ubisoft at €80 per share, which accounts for around 86% premium to the company's ~€43 share price on September 6, 2022, when the deal was announced.
The stake also gives Tencent 5% voting rights in Guillemot Brothers, but the Chinese giant won't be represented on the board, or get any consent or veto rights over the business. Guillemot Brothers Limited will still be exclusively controlled by the Guillemot family.
With this deal, Tencent has increased its 4.5% direct stake in Ubisoft to 9.99% of the capital and voting rights. Moreover, Tencent will not be able to sell Ubisoft's stake for 5 years, as well as, most importantly, to increase its stake beyond 9.99% for 8 years. As in the case with Guillemot Brothers, Ubisoft's governance will remain unchanged, with Tencent not having any operational veto rights.
The deal also allows Tencent to enter The Guillemot family concert — Ubisoft's founders' structure, which owns the stake in Ubisoft. With the transaction, The Guillemot family concert now owns 24.9% of Ubisoft, while Tencent owns 4.1% of it. This sounds a bit more complicated than it actually is, so have a look at The Guillemot family concert shareholders structure below.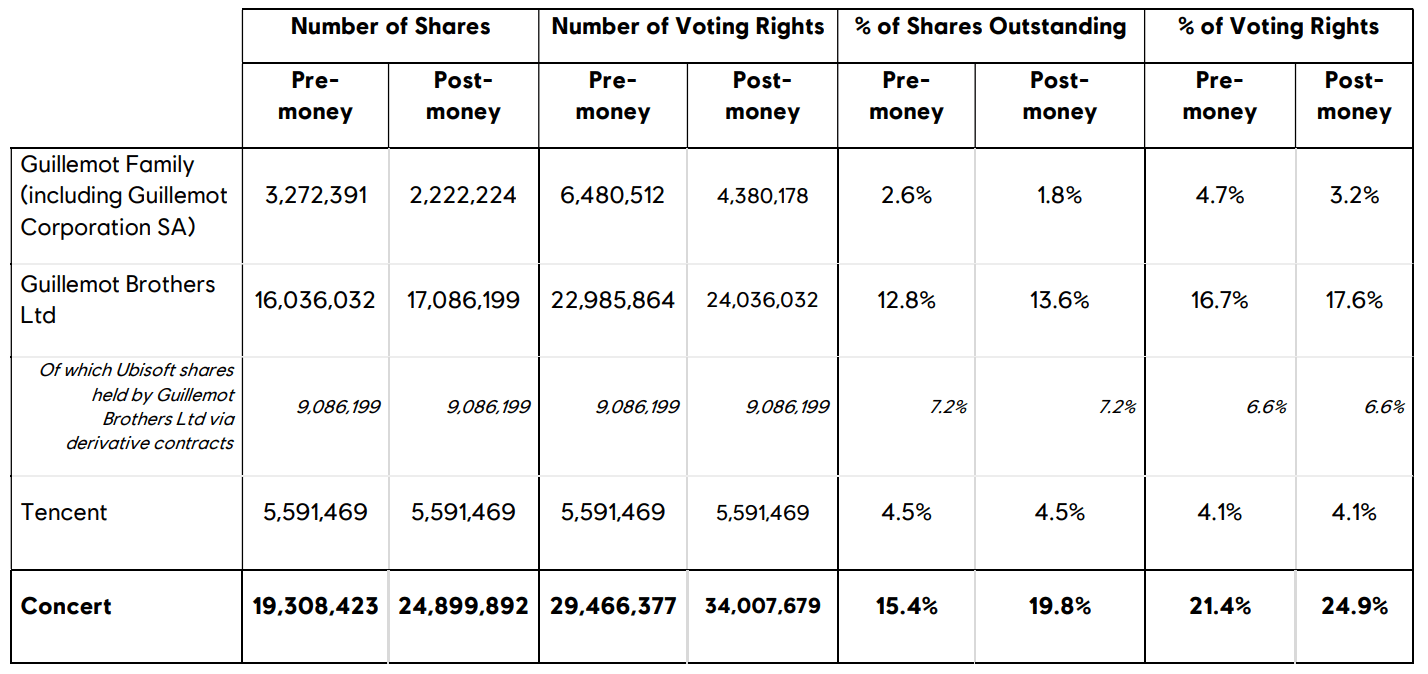 Source: Ubisoft
In addition, Tencent will provide Guillemot Brothers Limited with a long-term unsecured loan to refinance its debt. The loan will also support any minority acquisition of Ubisoft by Guillemot Brothers in the future.
Strategic Rationale
The deal was announced a few days after we had learned about NetEase (NASDAQ: NTES) acquiring France-based PC & Console games developer Quantic Dream, and Tencent increasing its stake in Japanese PC & Console games developer FromSoftware. We covered both of the deals in our previous digest, where we also wrote about the ongoing competition between NetEase and Tencent. Both companies are actively expanding into the Western PC & Console segment, so it seems pretty logical as to why Tencent went for the deal. But what's in it for Ubisoft?
On Ubisoft Forward 2022, which occurred on September 10, 2022 the company shared lots of new information regarding its current focus. One of the most interesting things noticed there was Ubisoft's further active expansion to mobile.
In the near future, the company is going to release mobile games based on Rainbow Six, Tom Clancy's The Division, and Assassin's Creed famous IPs. Ubisoft has also announced three mobile games exclusively for Netflix (NASDAQ: NFLX): a sequel to puzzle-adventure game Valiant Hearts, rogue-lite hack-and-slash game Mighty Quest, and an original mobile game based on the Assassin's Creed franchise.
With two upcoming mobile Assassin's Creed games, Ubisoft is taking the mobile venture seriously, and this seems about time. Apart from a few AC games, Assassin's Creed: Mirageand Assassin's Creed Infinity (Code Red and Code Haxe), the company's AAA pipeline includes only Skull & Bones, a pirate-genre game that was in a troubling development for almost a decade, and Mario and Rabbids 2, co-developed with Nintendo. Thus, the mobile releases may become a good way to fill in for the cash-flow gaps between AAA releases of the company.
The company has been actually pursuing the stabilization of its Revenue flows for quite some time now. Apart from its multiplayer games with GaaS monetization like The Division and Rainbow Six: Siege, the company has also introduced in-game purchases in single-player games like Assassin's Creed, especially in the last three instalments. Now, the company continues its deep dive to GaaS, making Assassin's Creed Infinity, shifting Trackmania to the F2P model, and preparing a subscription-based Rocksmith+ guitar-learning rhythm game for launch.
Considering all this, closer relationships with Tencent might be especially beneficial for the company. First, Tencent will develop mobile titles based on popular Ubisoft franchises. And here we cannot but mention again the rivalry with NetEase, which has developed one of the biggest titles in the industry in collaboration with another Western company: Diablo Immortal. Tencent did the same even earlier with CoD Mobile, so both companies seem to follow pretty much the same strategy here. Considering the deep mobile expertise and large budgets Tencent has, and the popularity of Ubisoft's IPs, we have all the reasons to expect some huge announcements from Tencent in the future.
Second, it will provide Ubisoft with bigger access to the largest Chinese market, and support the launch of several Ubisoft's PC titles in the region.
With all the benefits and synergies mentioned, it is especially interesting that there is no opportunity for Tencent to acquire a controlling stake at Ubisoft, at least during the next 8 years. Ubisoft clearly values its independence, which these days has become something pretty unusual for the industry.
---
We want to thank Hiro Capital and The Games Fund for supporting this digest.


---
MERGERS & ACQUISITIONS
Cyprus-based mobile games publisher and developer Azur Games acquired 81% of mobile games developer Zillion Whales, known for the Mushroom Wars franchise. Financial terms of the deal are not disclosed; however, the studio will keep its brand, Zillion Whales, and continue to perform under it. As a result of the acquisition, Azur will add an experienced team of developers, while Zillion Whales will get access to Azur's distribution and publishing capabilities.
Finland-based mobile games developer Nitro Games (STO: NITRO) has acquired a new unannounced mobile game from Denmark-based developer Doomsday ApS. Nitro Games secures the ownership of the game and all related intellectual property rights, while Doomsday will receive $2.75m, fully paid in cash.
US-based mobile games publisher and developer Scopely acquires battle royal title Stumble Guys from Finland-based mobile games developer Kitka Games for an undisclosed sum. The financial terms of the deal are not disclosed. The acquisition will strengthen Scopely's portfolio of socially driven titles in a range of genres, simultaneously helping the company to get access to new users and genres.
 VENTURE FINANCING
UPDATE: Hong Kong-based blockchain giant Animoca Brands has raised $110m in strategic funding from Temasek, Boyu Capital, and GGV Capital. Mirae Asset Management, and True Global Ventures also participated in this round. The new investment will help fund strategic acquisitions, investments, product development, obtaining licenses for intellectual property, and expand further into the metaverse.
US-based Web3 games developer Revolving Games has raised $13.2m in funding. Pantera Capital, Animoca Brands, Polygon, and others have participated in the round. The funds will go towards the development of decentralized games, using popular third-party franchises and their own IPs.
Turkey-based mobile games developer Gulliver's Games has raised $750k in Seed funding. The round was led by Boğaziçi Ventures, with participation from others. The funds will be used for growth in the tycoon market, and for expansion of the infrastructure they have already been building.
US-based Web3 gaming ecosystem Gameplay Galaxy has raised $12.8m in Seed funding. The round was led by Blockchain Capital. The funds will go towards the development of games and wallet for the platform, and adding more staff to the team.
UK-based mobile games developer Netspeak Games has raised $12m in Series A funding. The round was co-led by Lakestar, and Project A, with participation from the Makers Fund and others. The funds will be used for expanding the team and supporting the upcoming launch of Sunshine Days — live village game with a social aspect.
Sweden-based gaming giant Stillfront Group (OM:SF) announced a new unsecured $60.6m loan. Swedish Export Credit Corporation will perform as a lender. The agreement will be a 4-year based one, and will allow Stillfront to strengthen its financial position and diversify the company's financing platform.