14 Nov — 20 Nov / 2022
Weekly News Digest #47
announced deals' size

$144m
Global Gaming Deals Activity Report Q1-Q3'22
Rollic has acquired Popcore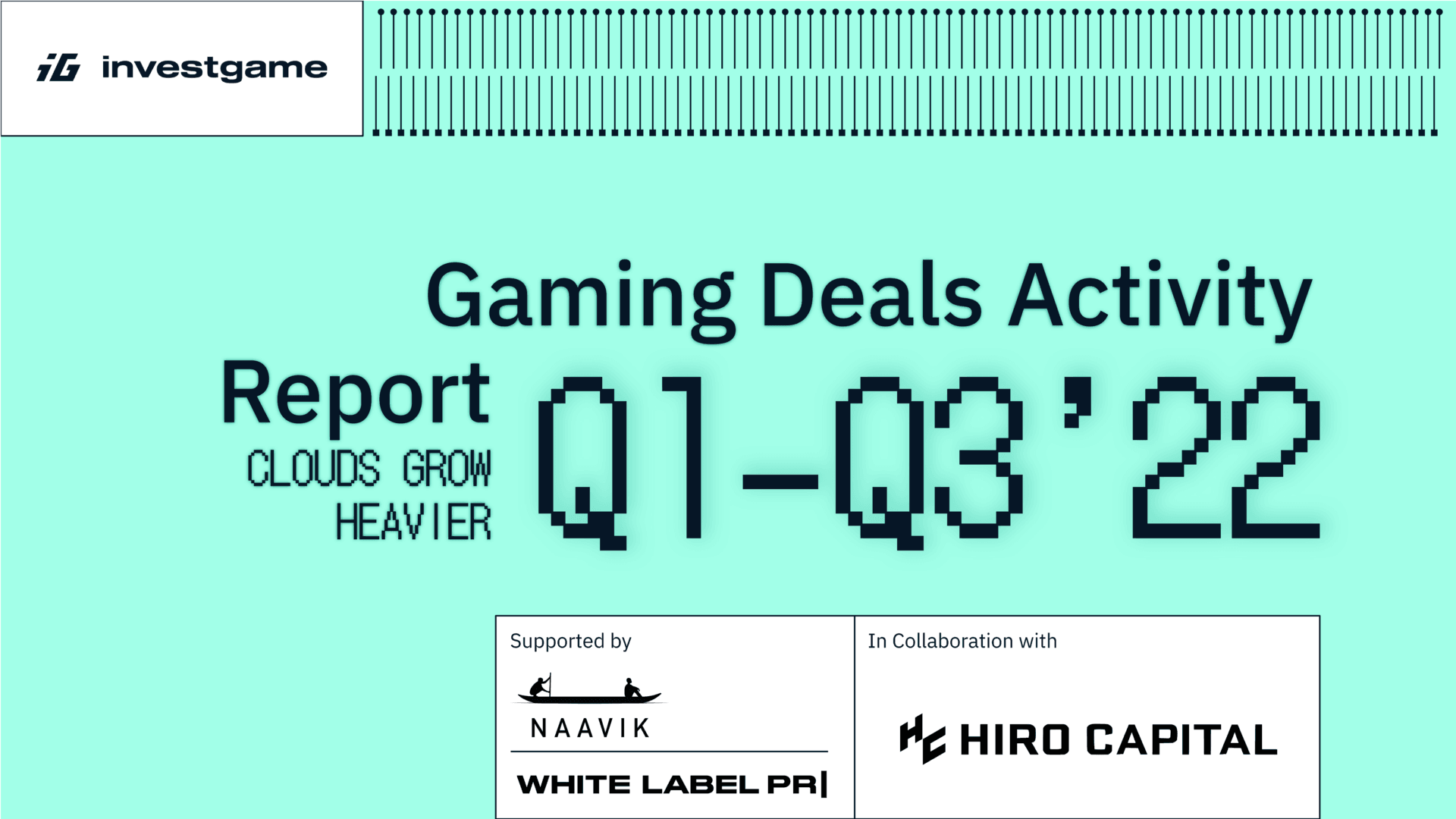 Global Gaming Deals Activity Report Q1-Q3'22
We're proud to share with you our Global Gaming Deals Activity Report Q1-Q3'22.
Q3'22 has proven to continue the somewhat lagging results of the previous quarter, further exacerbating the gaming market cooling conditions: the current lumpish macroeconomic situation, post-pandemic user engagement changes, post-IDFA pressure, increased regulatory scrutiny, release dates shifts, supply chain issues, and other factors.
As a result, this quarter has experienced a weakening across all investment activity types.
— In Q1–Q3'22, we have registered 626 closed deals with the overall deal value of $51.4B, or $124.5B, including 10 more announced but not yet closed deals including Microsoft ATVI deal.
— Even though $124.5B is almost 2x bigger than $62.4B (Q1–Q3'21 closed + announced cumulative deal value), without the Activision Blizzard potential acquisition the actual value is lower: $55.5B. The same is true for closed deals, with $51.4B vs. $58.8B across 709 deals in Q1–Q3'21. If the final quarter of 2022 turns out to be as heavily impacted as the third one, we may safely say that 2022 will not be as record-breaking as 2021 was.
— Following the contradictory results of the M&A activity in H1'22, the trend continues in Q3'22. From the deal value perspective, there is a 16% growth to $6.7B in Q3'22 (compared to $5.8B in Q3'21). Meanwhile, the overall deal count shows a tremendous decline (–31%).
— It seems like the soured macroeconomic situation has finally caught up with Private Investments as well: the last quarter showed the weakest result since Q4'20. 111 deals have presented the total disclosed value of $1.4B, indicating a sharp decline from Q2'22 (–69% QoQ).
— Public Offerings reached its lowest point since 2020. On a YTD basis, the total deal value has shrunk ~5x times vs. 2021, and ~2x times vs. 2020; meanwhile, the deal count has declined 3.6x vs. 2021 and 3x vs. 2020, making 2022 the worst year for Public Offerings.
— While Blockchain gaming used to be the driving force of Early-stage investment activity, Q3'22 is the first quarter with negative growth metrics in the blockchain-related investments. The total number of deals continued to grow (up 2.8x YoY; 61 vs. 22), the total deal value was down –14% YoY ($932m vs $1.09B). This showcases continued but slightly waning investor interest in the potential future of uniquely enabled business models in blockchain games.
There are some changes in this Report: f.ex., this time, we've split the Top VCs list into two buckets: the traditional Gaming one (p. 8), and the Web3 gaming one (p. 23), the latter being dedicated solely to the investments into gaming projects, platforms, and infrastructure solutions in Blockchain, Web3, NFTs, P2E related space. We've also disclosed the formula behind both VC lists (p. 23), so that everyone can see how those are made.
Also, In the last Report for the first time ever we introduced the gender diversity data on the founders and leaders of the gaming companies that closed gaming investment deals as targets. That data spanned only the period of H1'22; this time we provide a wider range, including data for the FY 2021 too, which hopefully helps us see a bigger picture (p. 11).
Together with White Label PR, we have collected the most media covered deals, ranking them by the number of mentions on websites with 5 000+ MAU (p. 12). Finally, we've added a map of all the closed control M&A transactions this year (p. 16).
Please submit your email to get the Report in your inbox and read the short summary below.

Enter your email to get the Report
InvestGame uses the email address you provide to contact you about our Gaming Deals Reports, Weekly Digests, and other relevant content. You can unsubscribe from our emails at any time.
We would love to thank our dear friends from Hiro Capital for supporting this Report, our colleagues from Naavik for helping us out with the Blockchain gaming analysis, and a special thank you to White Label PR agency for connecting us with top tier media outlets!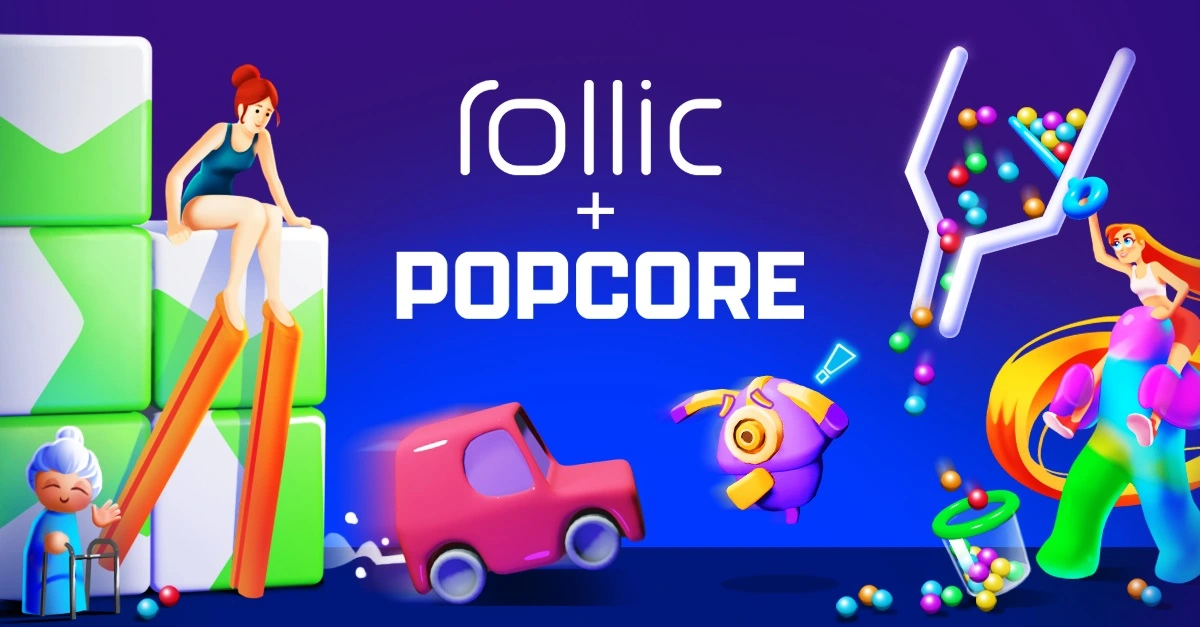 Rollic Has Acquired Popcore
Turkey-based hypercasual games publisher and developer Rollic, a wholly-owned subsidiary of Zynga, has acquired Germany-based hypercasual games developer Popcore for an undisclosed sum.
Rollic, Zynga, and Take-Two Interactive
For a better understanding of the strategy behind the deal, we should keep in mind that Rollic is a subsidiary of Zynga, which, in turn, is a subsidiary of Take-Two Interactive (NASDAQ: TTWO). For the latter, it is especially important to further diversify itself to the Mobile gaming segment, since this is the most stable, growing, and massive part of their financial performance right now. This has become possible after the acquisition of Zynga, with the Mobile segment becoming the main contributor in Net Bookings, with its overall share growing from 11.5% in Q1-Q2'FY22 to 43.4% this quarter.
Not only is there a strong performance of Mobile, compared to other segments, but we also see an underperformance from the traditional for Take-Two PC & Console segment: it showed a decline in both Net Revenue and Net Bookings. Specifically, PC Net Bookings decreased from $284.7m to $244m (–14.3%), and Net Revenue from $275.6m to $237.1m (–14%). Console Net Bookings had a slight decline from $1.22B to $1.18B (–2.9%), and Net Revenue from $1.198B to $1.16B (–3.3%).
As a result, by the end of FY'23, Take-Two expects 45% of Net Bookings to be generated by Zynga, while 2K Games will account for 36%, Rockstar Games for 18%, and Private Division for 1%. This quick overview of the financials underlines the importance of each mobile acquisition we see from Take-Two this year. If you'd like to dive deeper into the challenges Take-Two has faced this year and how those changed the company's strategy, be sure to check our detailed analysis for Naavik.
Let's now have a closer look at Popcore to understand how Rollic, Zynga, and TTWO can benefit from the deal.
About Popcore
Founded in 2018, Popcore has quickly found its success in the hypercasual genre — one of the first games of the company, Connect the Pops, surpassed a million downloads in three months after its release. After that, Popcore released several other games: Folding Blocks, Wrecking Ball, Sandwich!, and Pull the Spin — each of the games was beating records set by the previous one. As a result, in a year after the launch of its first game, Popcore generated around 25 million downloads per month, according to AppMagic.
During this rapid early-stage growth EQT Ventures backed the company with an undisclosed investment in Apr'19. At the moment the studio was raising its first and only investment, the market knew mostly about the Connect the Pops franchise, which was eventually expanded by several other titles, like Bubble Pops!, Drop & Pop, and Gravity Pop!. However, as we now see, Popcore didn't limit itself to the formula that had once worked, and continued experimenting. As a result, in 2022, among top downloaded games of the company there areParking Jam 3D, Pull the Pin, Tap Away, and Scavenger Hunt titles. Overall, the games of the company saw over 600 million downloads, according to AppMagic.

Source: AppMagic
Speaking of experimenting, Popcore clearly understands what makes the hypercasual genre so attractive to such a wide audience. Today, its most downloaded title is a parking puzzle game Parking Jam 3D. To create it, Popcore took the formula of Parking Jam by TerranDroid, published back in 2014. The older game was targeting a completely different audience — it had detailed 2D graphics, lacked humor, and appealed to a challenge rather than fun. So Popcore took the idea and turned it into a modern hypercasual game with much more simplified graphics, lots of humor, and shorter levels. The approach led to Parking Jam 3Dgenerating around 170 million downloads in total.
Thatsaid, we consider Popcore a dynamic hypercasual studio that knows how to experiment and search for new ideas. That is why Rollic acquires not only IPs, which are arguably less important in the hypercasual genre, but a creative team to innovate and bring new titles to the pipeline — after all, over the course of four years, the company has changed its #1 downloaded title several times, showing no dependence on a single gameplay solution, and the ability to scale various hypercasual titles.
---
We want to thank MGVC, Hiro Capital, and The Games Fund for supporting this digest.


---
 MERGERS & ACQUISITIONS
Sweden-based game developer, publisher, and distributor Thunderful Group (NASDAQ OM: THUNDR) has entered into an agreement regarding the acquisition of UK-based PC game developer Jumpship for up to $35.4m (£30m). The initial consideration of $7.1m (£6m) will be paid fully in cash. An additional consideration of up to $28.3m (£24m) will be paid based on EBIT performance per financial year during the 2022-2027 period. Jumpship is known as a developer of the Sci-Fi adventure Somerville. The acquisition will allow Thunderful Group to add another experienced dev team, while Jumpship will get access to Thunderful's resources for further growth.
VENTURE FINANCING
UK-based mobile game developer Landmark Games has raised $4.6m in Seed funding. The round was co-led by Project A Ventures, and InReach Ventures, with participation from Moonfire Ventures, Concept Ventures, and others. The funds will go towards the expansion of the team and the development of its premier title co-op mobile game Sea of Souls.
Finland and Shanghai-based user-generated content platform Yahaha has raised $40m in Series A+ funding. The round was co-led by Temasek, and Alibaba, with participation from 37 Interactive Entertainment. The funds will be used to further grow Yahaha platform, community, headcount and ecosystem.
US-based newly-established game developer Noodle Cat has raised $4.1m in Seed funding. The round was led by Makers Fund, with additional participation from 1Up Ventures and others. The funds will go towards hiring staff and the development of the future games.
US-based newly established game developer Methodical Games has raised $15m in funding. The round was led by Lightspeed Ventures, with participation from BITKRAFT Ventures, 1Up Ventures, and others. The funds will be used for the development of a multiplayer action-adventure game.
US-based Web3 startup Heroic Story has raised $6m in funding. The round was led by Upfront Ventures, with participation from Multicoin Capital, Polygon Technology, and others. The funds will be used to expand the team and promote its blockchain gaming platform.
UK-based AR interactive entertainment venues startup Immersive Gamebox has raised $20m in funding from Harlan Capital. The funding will be used to increase the AR venues presence, since the company aims to reach 30 venues by H2'23, doubling its presence, and to 100 venues by the end of that year.
A newly-established Cyprus-based game developer Eschatology Entertainment has raised$4m in Seed funding. The round was co-led by The Games Fund, and GEM Capital. The funds will go towards the expansion of the team and the development of an unannounced narrative shooter for PC & Consoles.
A F2P fantasy sports platform build on the BNB Chain Ultimate Champions has raised $4m in funding. The investment was provided by Binance Labs to support Web3 gaming. The funds will be used to further develop its games, establish more sports partnerships, and grow its community.
Sharon Tal Yguado has announced the creation of her new game studio, Astrid Entertainment and the completion of pre-Seed funding. The exact amount was not revealed. NetEase, Stardom Ventures, and Tower 26 Ventures were among the investors. The studio will use funds for the development of an unannounced MMO title.
US-based volumetric video editing and streaming tools provider Arcturus has raised $11m in Series A funding. The round was led by Cloudtree Ventures, with participation from Autodesk, and Epic Games. The funds will be used to further develop its flagship HoloSuite platform for editing live-action 3D performances and stream those files to any screen.
China-based game giant NetEase (NASDAQ: NTES) has invested an undisclosed sum into Norway-based fitness gaming startup PlayPulse. The proceeds will support the launch of the company's first product, an exercise bike with games called PlayPulse One.
FUNDRAISING
European venture capital firm Index Ventures has announced the opening of its second fund called Index Origin II. The fund is $100m larger than Origin I, having $300m ready to be deployed for Seed investments into innovative startups. Considering that Index Ventures has lately been one of the most notable investors in the gaming industry (they got into our VC Gaming Funds list on page 8 of our latest Report), we might expect some of the funds to go towards the gaming startups.
Newly-founded Sweden-based VC fund Behold Ventures has raised $25.9m to invest in Nordic gaming startups. This is currently the largest purely gaming-focused fund in Sweden, which is also going to invest in studios from Norway, Finland, Denmark, and Iceland.
The German Government has increased its governmental gaming fund to $72m (€70m today). The fund was originally launched in 2019 with €50m ($56m in 2019) to be invested in the gaming industry of the country. Now the German Bundestag has approved an increase of €20m (~$20.5m today) to the fund.