6 Mar — 12 Mar / 2023
Weekly News Digest #10
announced deals' size

$91.6m
Believer Company Closes $55m Series A Round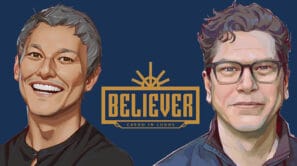 Believer Company Closes $55m Series A Round
A newly-formed US-based video game developer Believer Entertainment has raised $55m in a Series A funding round. The round was led by Lightspeed Venture Partners, with participation from Andreesen Horowitz, BITKRAFT Ventures, Riot Games, 1Up Ventures, Tornante, and others. The money will go towards creating a team of professionals for further development of the company's first project.
The executive team of the company includes gaming industry veterans, who developed such titles as Destiny, Plants vs Zombies, Words with Friends, League of Legends, and more:
— Michael Chow, CEO, former Riot Games Vice President, Newtoy co-founder;
— Steven Snow, CPO, one of Riot Games' founding fathers;
— Landon McDowell, CTO (Microsoft, Riot Games, Linden Lab);
— Jeremy Vanhooser, CCO (Bungie, Electronic Arts);
— Tim Hsu, COO (Twitter, Riot Games);
— Shankar Gupta-Harrison (CMO, Riot Games, Dentsu X);
— Grace Park, Director of Operations (League of Legends: Wild Rift);
— Jeff Jew, VP of Design (League of Legends, Legends of Runeterra).
Believer is currently developing a next-generation open-world game, where players are free to make choices that influence the gameplay. The company strives to create a game where players will cooperate, not compete, focusing on "gaming systems that bring players together rather than pushing them apart". The name of the title or any additional information are yet unknown.
Considering the fact that most of Believer executives previously worked at Riot Games, the team has a colossal experience in creating free-to-play GaaS games. Steven Snow, Chief Product Officer of Believer Entertainment, said: "Bringing free-to-play to North America and Europe with League of Legends really changed the landscape of how games as a service could work. It is our privilege to have the opportunity to help shape the future responsibly". With that in mind, it can be assumed that the future title of the newly established studio might be a free-to-play GaaS as well. You can read more about the studio's vision here.
Recently we also covered the news on Lightspeed's new gaming practice and its new subdivision Lightspeed Gaming. The company's approach is "quality over quantity", which means Lightspeed does care about studios it backs and helps them through the full lifecycle. Though the fund's investment sectors vary from consumer to healthcare, it has a vast presence in the gaming sector in recent years. In Jul'22, Lightspeed announced a $7.5B fund to invest in Early and Growth-stage entrepreneurs around the globe.
In Nov'22, the fund led a $15m Seed funding round at Methodical Games, a US-based multiplayer action-adventure game developer, established in 2022. Seems only logical, that Methodical Games team has worked on such franchises as Fortnite, Apex Legends and Call of Duty, which are remarkable paragons of free-to-play GaaS games.
Lightspeed had a total of eleven investments in the year 2022, leading four of them, which got the fund to our Most Active VC Investors CY 2022. You can learn of other Lightspeed Venture Capital investments by the link.
---
We want to thank MGVC and The Games Fund for supporting this digest.

---
 VENTURE FINANCING
Matchday, a US-based Web3 gaming startup focused on football-centric games, has raised $21m in Seed funding. Courtside Ventures, Greylock, Lionel Messi's Play Time, and others have participated in this round. The funds raised will be used to support the development of the company's Web3 games.
Redemption Games, a US-based mobile games developer formerly owned by AppLovin (NASDAQ: APP), has become an independent entity and raised $7m in funding. Play Ventures led the round, with participation from BITKRAFT Ventures, Merit Circle DAO, Orange DAO, and others. The funds will be utilized for team expansion and developing new titles, including Web3 games.
Encultured AI, US-based AI startup, has secured $5.5m in Seed funding according to SEC filings, with the investors' list undisclosed. The company is focused on safely introducing AI technologies into the gaming world and will use the funds raised to continue its growth.
Virginia Innovation Partnership Corporation has invested in Loric Games, a US-based story-driven games developer. The terms and amount of the investment remain undisclosed, but the funds will be used for team expansion and the development of the company's survival title with an impactful narrative.
ByoWave, an Ireland-based hardware developer that creates gaming controllers for disabled people, has raised $2.56m in a Seed round, led by Halo Business Angel Network, Enterprise Ireland, Irrus Investments and others. The funds will be utilized for further expansion and setting a subsidiary in Shenzhen, China.
Longjiang Network, China-based games and software developer, jointly owned by its founder Li Wei, NetEase (NASDAQ: NTES) and Tencent (SEHK: 700), has raised an undisclosed sum from Riot Games via its investment subdivision.
Canada-based Web3 games developer GameOn has announced that it has received grant funding from The HBAR Foundation, although the sum of the non-dilutive funding has not been disclosed.
South Korea-based video game developer Ocean Drive Studio has raised $0.5m in funding from undisclosed investors. The company is currently developing its first title, Blackout Protocol, a cooperative isometric shooter with roguelike elements which is in a soft launch and available on Steam.