3 Apr — 9 Apr / 2023
Weekly News Digest #14
announced deals' size

$4.9B
Savvy Gaming Group Acquires Scopely for $4.9B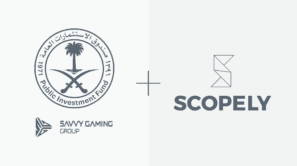 Savvy Gaming Group Acquires Scopely for $4.9B
Savvy Gaming Group, a subsidiary of Saudi Arabia-based Public Investment Fund (PIF), acquires US-based mobile gaming company Scopely for $4.9B.
The valuation is 48% higher than a $3.3B valuation Scopely boasted during its latest Series E funding round, closed back in Oct'20. However, this is still 10% lower than the $5.4B valuation the company got after its $1B acquisition of GSN Games in Oct'21. The drop in the valuation generally goes in line with the overall cooling down of the economy we described in our 2020-2022 Gaming Deals Activity Report.
Founded in 2011, Scopely is an example of a mobile gaming company that grew via investments and M&As, continuously raising new rounds and acquiring other studios to strengthen its pipeline. As a result, today Scopely has an impressive portfolio of hit titles, many of which got under the company's umbrella as a result of M&A deals:
— In May'19, the company acquired Ireland-based mobile games developer Digit Game Studios, the creator of a popular title Star Trek Fleet Command;
— In Jan'20, Scopely acquired US-based games developer FoxNext Games, the studio behind Marvel Strike Force, for $250m;
— In Apr'20, the company acquired US-based games developer PierPlay, known for its Scrabble Go title;
— In Oct'20, the company bought Spanish mobile games developer Genera Games, the creator of Tuscany Villa;
— In Dec'21, Scopely purchased US-based mobile games developer GSN Games, best known for its titles Solitaire TriPeaks and Bingo Bash, for $1B;
— In Feb'22, Scopely acquired Spain-based mobile games developer Omnidrone, the company behind Titan Brawl;
— In Sep'22, Scopely acquired Stumble Guys IP from Finnish games developer Kitka Games.
The biggest hits of the company today, Star Trek Fleet Command, Marvel Strike Force, Stumble Guys, and Solitaire TriPeaks, ended up in Scopely's profile after the acquisition deals. Overall, the company has acquired 6 studios and an IP. The total size of all deals is unknown, but the announced value is $1.25B.
Thus, M&As played a crucial role in the company's growth and helped to build up the portfolio Scopely is known for today. To make the deals possible and facilitate the growth of the acquired studios, Scopely was actively attracting funding from a vast pull of investors: according to S&P Capital IQ, there were over 60 investors who participated in the rounds of Scopely. Overall, during the period of 2012-2020, the company closed 8 rounds for a total of $998.5m.
Source: InvestGame Database
And this is where the Saudi Arabian Public Investment Fund comes in for the acquisition. So far, this is not only the biggest deal of the year, but also the largest transaction coming from PIF. The closest one in terms of size is $3.6B injected into Nintendo (TYO: 7974), over the course of two minority stake acquisitions.
This is the second acquisition Saudi Arabian Public Investment Fund has made in the last 4 months. In Dec'22 PIF acquired a majority stake in US-based AR developer Magic Leap for $450m. Moreover, in Jan'22 PIF acquired two Esports organizations: ESL Gaming and Faceit, let alone numerous minority acquisitions in public gaming companies like Nintendo (TYO: 7974), Electronic Arts (NASDAQ: EA), Capcom (TYO: 9697), and Activision Blizzard (NASDAQ: ATVI), to name a few.
Overall, since 2020 Saudi Arabian PIF together with its subsidiary Savvy Gaming Group has allocated approximately $16.76B over the course of 15 deals, including this one. We've gathered all the deals in the picture below:
Source: InvestGame Database
The deal is yet another confirmation of the Saudi Arabian government treating the gaming industry as one of the major industries to diversify into. Various minority stakes acquisitions were about gathering information, connections, and expertise from public gaming companies, but the control M&As like ESL, Faceit, Magic Leap, and Scopely show a strong commitment to developing the gaming industry in the region. Now the governmental fund has subsidiaries across Esports, VR tech, and mobile gaming.
What is more important, Scopely has shown reliable expertise in choosing M&A targets. We can easily imagine the newly acquired company using the billions of Saudi Arabian government to make even more deals for even larger considerations. In a certain manner, we can compare Scopely acquisition by Savvy Gaming Group with Zynga acquisition by Take-Two: the last M&As by the US-based gaming company — Storemaven, Popcore, and Gameclub, — are all about increasing Zynga's capabilities. Thus, we might expect more complementary M&As from Savvy to accelerate the further growth of Scopely. Alternatively, PIF might choose to diversify into the PC & Console market. We don't know the details yet, but we are more than sure that more deals are about to come.
We want to thank MGVC and The Games Fund for supporting this digest.

---
MERGERS & ACQUISITIONS
Devolver Digital (LON: DEVO), a US-based indie games publisher and developer, acquires US-based indie games developer Doinksoft. Financial terms of the deal were not disclosed. Devolver has published 2 previous Doinsoft titles (Gato Roboto, Demon Throttle), and will publish the upcoming Gunbrella. This acquisition will enable Devolver to enhance its production capabilities and further expand its gaming pipeline.
Chinese gaming giant Tencent (SEHK: 700) has acquired a minority stake in China-based mobile game developer Yuzun Technology for $0.1m. Yuzun Technology was founded in 2022 and is currently working on its debut title, which has not yet been announced. This acquisition demonstrates Tencent's continued interest in mobile gaming and will enable the company to enhance its production capabilities.
US-based women gaming organization Queens Gaming Collective has been acquired by US-based esports organization XSET for an undisclosed sum. Queens Gaming Collective's main focus is empowering women in the gaming field. XSET views the deal as an opportunity for ensuring diversity and inclusion in the gaming area, as well as expanding its workforce and talent.
 VENTURE FINANCING
Pink Games, a Turkey-based mobile games developer, has raised $1.2m (₺22.9m) in Seed funding. Alesta Investment and Geometry Venture Development have participated in this round. Pink Games specializes in developing HTML-5 hyper casual games and intends to use the funds to accelerate its growth.
Invincibles Studio, a UK-based game developer, has raised $1.24m ( £1m) in its latest funding. The investment was provided by NPIF — Mercia Equity Finance and Mercia's own funds. Invincibles Studio is known for developing Soccer Manager, a free-to-play soccer management simulator. The studio is currently working on two new football-related titles that have not yet been announced. The recent funding will support the development and release of these new games.
Gleam Games, a Turkey-based mobile games developer, has raised $1m in its latest funding. The round was led by IstCapital, with participation from Ludus Venture Studio, and TeraPortfoy. The funds will be used to support the marketing and further development of its match-3 title, EverBlast.
Gulliver's Games, a Turkey-based mobile games developer, has raised $1.5m in its Second funding round. We have covered the previous round here. Boğaziçi Ventures ($0.5m) and March Capital ($1m) have participated in this funding, according to Egirişim. The funds will be used to further expand the studio's growth.
Turkey-based mobile games developer Paxie Games has raised $3m in a Seed funding round led by Ludus Venture Studio. The company's main titles are Merge Studio and Tile Star, which are mobile fashion makeover games. The funds raised will be used to further develop both titles.
Social Future, a Singapore-based Web3 AI-driven platform developer, has raised $6m in funding from various investors, including SNZ, Everest Venture Group, Folius Ventures, Y2Z Ventures, Mask Network, Tess Ventures, Stratified Capital, Mindfulness Capital. The money will be used for further development of its main title Meet Another You, a metaverse platform that allows users to create and explore different virtual worlds and collect NFTs.
US-based mobile games developer Skillprint has raised $3.5m in a Pre-Seed funding round from Shanda Ventures, LearnStart, Niremia Collective and other investors. The company develops an eponymous mobile gaming platform that consists of 40+ puzzles and quizzes, created for cognitive and mental elaboration.