15 May — 21 May / 2023
Weekly News Digest #20
announced deals' size

$490m
InvestGame Global Gaming Deals Activity Report for Q1'23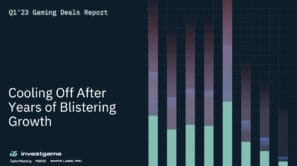 Global Gaming Deals Activity Report Q1'23
InvestGame team is pleased to present our Global Gaming Deals Activity Report for Q1'23. The first quarter of 2023 has followed the trend of 2022 and continues struggling from severe market challenges, with a total closed deals' value exceeding $2.1B across 193 transactions, compared to $15.4B among 277 deals in Q1'22.
— Private Investment remains strong, hitting $1B, with an increase in deal count to 141, compared to 114 in the previous three months, halting the negative trend. This growth is primarily driven by Early-stage and Corporate deals, while Late-stage deals remain stagnant;
— The unprecedented M&A activity seen in 2021 and 2022 is also cooling down, with only 43 deals in Q1'23 compared to 88 deals in Q1'22. The total deal sum has declined by 94%, from $11.4B to $0.6B;
— Public Offerings' recession continues with just 9 deals in Q1'23. However, the total deal value has slightly decreased as well, from $0.7B to $0.5B. In the near quarters the trend will probably continue; however, we may see some notable Offerings from main strategic investors based on TTWO Public Offering in the amount of $1B.
Although the investment activity, especially in M&A and Public Offerings, is still heavily affected by the bearish market and high interest rates, among other factors, Early-stage and Corporate activity is actually coming back to its usual size and state, showing resemblance to the pre-pandemic metrics. In our Report, you can find more detailed data as well as additional information about the most active VC funds and select deals for the Q1'23 period.
Enter your email to get the Report
InvestGame uses the email address you provide to contact you about our Gaming Deals Reports, Weekly Digests, and other relevant content. You can unsubscribe from our emails at any time.
Thank you for reading and supporting the InvestGame team!
We would also like to express our gratitude to our partners at MGVC and Taylor Wessing for their support, as well as a special thank you to White Label PR agency for connecting us with top-tier media outlets.
We want to thank MGVC and The Games Fund for supporting this digest.
MERGERS & ACQUISITIONS
US-based gambling company Light & Wonder (NASDAQ: LNW) has announced a proposal to acquire the remaining 17% of a US-based mobile social casino games developer SciPlay (NASDAQ: SCPL) for about $422m. The price came at a 28.5% premium to the closing price of May 17, 2023. The deal would make SciPlay a private fully-owned subsidiary of Light & Wonder, formerly known as Scientific Games. Currently, the company owns 83% of the SciPlay shares and 98% of the studio's voting interest. SciPlay was Light & Wonder's social casino branch until it was rearranged as a separate legal entity and went public via a 17% IPO in 2019.
Saudi Arabia-based Public Investment Fund (PIF) has increased its stake to ~9% in US-based gaming giant Electronic Arts (NASDAQ: EA) and now owns 24.81 million shares in the company. Prior to Q4'22, PIF had held 16.01 million shares in Electronic Arts. Since 2020, apart from this deal, Saudi Arabian PIF together with its subsidiary Savvy Gaming Group has allocated $17B across 15 deals. More information about previous PIF gaming deals is in our previous digests.
Norway-based Krow Bidco has proposed the acquire all outstanding shares of Norway-based esports organization Heroic Group (OTCNO: HEROIC) for ~$5m. Heroic Group experiences financial difficulties and requires additional funding to sustain its operations.
US-based entertainment holding Jordan Freeman Group, a parent company of ZOOM Platform and Wanderful Interactive Storybooks, has acquired an educational mobile game developer Wanderful Inc, along with all of its assets. Financial terms of the deal were not disclosed. The acquisition will provide Wanderful Inc. with access to ZOOM Platform, while the Jordan Freeman Group will receive a boost to its pipeline with additional licenses and games.
Germany-based digital marketing and communication agency 1SP has acquired UK-based gaming marketing company Studio CO2. Financial terms of the deal were not disclosed. 1SP specializes in marketing product campaigns for gaming companies like Ubisoft (EPA: UBI), Microsoft (NASDAQ: MSFT), and Electronic Arts. The acquisition will help 1SP to expand its marketing service offerings to gaming industry clients.
VENTURE FINANCING
India-based esports content company NODWIN Gaming has raised $28m at $349m valuation. Official filings suggest that Sony and Innopark India are among the new investors of the company. NODWIN Gaming hosts and arranges numerous esports events and tournaments in India, such as Dreamhack India, ESL India Premiership, and many others.
India-based gaming content platform developer Rooter has raised $16m in a funding round led by Lightbox, with participation from Trifecta Capital, Pivot Ventures and others. Rooter is an esports and gaming streaming platform, which also has a mobile app installed over 50 million times. The money will be spent on further expansion of the platform.
User-generated content platform Rooms has raised $10m in Seed funding led by Andreessen Horowitz (a16z). The platform offers a browser-based tool for designing 3D spaces and playing games. The funding will allow to introduce more features and accelerate the overall development of the platform.
South Korea-based mobile and PC games developer RichAlien, a subsidiary of South Korean gaming company 111 Percent, has raised $8.7m in a Seed funding round. Stonebridge Ventures, SV Investment, Bass Investment, and 111 Percent have participated in the round. The funding will provide resources for further development of two games: match-3 puzzle Cascade Kings, and a yet undisclosed title. Both games are planned to be released this year.
Singapore-based Web3 games developer Metagame Industries has raised an undisclosed sum in its latest funding round at a ~$100m valuation. The participants of the round include Mysten Labs, Xterio, Funplus, Big Brain Holdings, and others. The studio is currently developing two games, Outset, and Abyss World. The latter title is a AAA third-person ARPG built on Mysten Labs' Sui ecosystem. The release dates for both games are yet to be announced.
UK-based digital content agency Little Dot Studios has made an undisclosed investment in UK-based mobile sports games developer Formation Games. The studio is currently working on a mobile football manager CLUB, which is scheduled to be launched in 2024. As a part of the agreement, Little Dot will additionally promote the game on TikTok.