12 Jun — 18 Jun / 2023
Weekly News Digest #24
announced deals' size

$17.6m
Xbox: Games Showcase and Q1'23 Financial Results Overview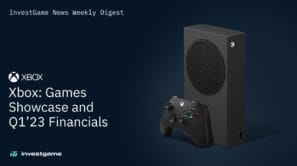 Hi all,
The investment activity remains weak, so this time we will not be analysing any big deal of the previous week. Instead, we will have a look trough the recent report of Microsoft (NASDAQ: MSFT) and Xbox Games Showcase.
Xbox: Games Showcase and Q1'23 Financial Results Overview
Microsoft's entry into the console market in 2001 was a surprise for the whole industry. The largest IT corporation, basically the synonym to Windows, had never been associated with console gaming by both the audience and the industry, despite a bunch of iconic PC titles, like Age of Empires, Microsoft Flight Simulator, and Age of Mythology. However, 20 years later, Xbox is now one of the key players in both console and PC gaming market. So what is happening with Microsoft's gaming division right now? Let's find the answer by looking through the company's recent report and the latest Xbox Showcase.
Financial Overview: Stagnation Despite Zenimax Acquisition 
In Q1'CY23 (Q3'FY23), Microsoft generated a total of $52.9B Revenue (+7% YoY), of which $3.6B (-4% YoY) came from the Gaming division. The decline in gaming Revenue comes from the decrease in Xbox hardware sales (-30% YoY), since it's already been 31 months since the launch of the new Series X/S consoles. At the same time, Xbox content and services Revenue saw an increase of 3%, driven by the growth in Xbox Game Pass subscribers number.
Xbox Game Pass is a gaming subscription service available both for PC and Xbox consoles. Despite its new competitors like PS Plus Extra/Deluxe, the service continues to grow but mostly due to the PC segment, while the console base growth has slown down. Recently, Microsoft CEO Satya Nadella revealed that Game Pass surpassed 120 million MAU and became the most popular game streaming service.
Unfortunately, Microsoft has not revealed how many Xbox Series consoles were sold. According to VGCharts, Microsoft sold 20.36 million units in 26 months since the launch — this is 1.1 million units higher than Xbox One sales for the same period. We can expect the hardware sales to receive a boost soon with the release of the new version of Xbox Series S console with 1TB internal storage (the original Series S storage is 512GB), as Microsoft expands not only the software but the hardware pipeline as well.
While examining Xbox Revenue, it becomes apparent that the hardware sales trend is declining, largely due to a weak pipeline and continuous shortage of Xbox Series X consoles. However, Xbox Game Pass continues to expand its audience and generate more Revenue. The increase of the console supply, the release of a new console version, as well as the upcoming game releases, may improve both hardware and software figures compared to the current Revenue breakdown; yet again, everything depends on the quality of upcoming gaming content.
However, if we take a closer look at the Revenue dynamics, we wouldn't be able to find a point of significant growth after the Zenimax acquisition. It seems like even two years after the deal, Zenimax is still gearing up to show its potential within Microsoft. After the recent Xbox Games Showcase, we now know that this potential has a name: Starfield. We will definitely talk more about its influence soon, but for now let's focus on another aspect of the Xbox financial performance: the absence of inorganic growth. The problem definitely comes not from the lack of resources, since Microsoft Revenue continues to grow — it's about the current M&A block until ATVI deal's fate is resolved.
Source: Microsoft Financial Reports. Note that we use calendar years in the chart. Using the financial calendar, the chart starts with Q3'FY20 and ends with Q3'FY23, which aligns with the reports of the company.
No M&As While Waiting for ATVI Deal's Fate

From the very inception of its gaming division, Microsoft has used its vast resources to acquire both the IPs and the expertise. The M&A history of Xbox started almost 20 years ago with the acquisition of Bungie and its Halo game, which would grow into a flagship franchise and become associated with the Xbox platform for years to come.
By 2022, Microsoft's gaming division had 27 studios, mostly due to the acquisition of Zenimax/Bethesda, revealed in 2020. Today, this is the second-largest closed acquisition in the history of the gaming industry — $7.5B is only surpassed by the $12.7B purchase of Zynga by Take-Two Interactive (NASDAQ: TTWO). However, today's main deal both for Microsoft and the industry is the $68.7B acquisition of Activision Blizzard (NASDAQ: ATVI), which is yet to be — or not to be — approved by regulators. For now, the fate of the deal is unclear. The UK regulator has already blocked the deal over the concerns it will stifle competition in cloud gaming.
Microsoft will appeal, so the story is not over yet. However, it has already influenced the M&A activity of the company. You can't really continue announcing new deals, while trying to prove to the regulators that you are not trying to ruin the competition with your acquisitions. That is why if the rumors about Ubisoft (EPA: UBI) selling come true, we are highly unlikely to see Microsoft as an acquirer.
Anyway, CEO of Xbox Game Studios head Phil Spencer recently stated that the company has already lost the console race to Sony/Nintendo and cannot catch up with them. The acquisition of ATVI, with their highly successful franchises such as Call of Duty, World of Warcraft, Diablo, and Candy Crush, will undoubtedly change the current state of affairs. However, this change is not expected to occur immediately.
Big Expectations after Two Humble Years 
Both 2022 and 2023 turned out to be quite challenging for Xbox in terms of its product portfolio. After the releases of Forza Horizon 5, Psychonauts 2, and Halo Infinite in 2021, Microsoft published very few games from internal studios, and even fewer of them turned out to be successful. Its main exclusive of Q2'23, Redfall from the well-known studio Arkane, received extremely negative reviews from both media and players. While Arkane Austin (a subsidiary behind Redfall) hoped that the game would be canceled or rebooted to a single-player after the Zenimax deal, this has not happened. The rumors say that Microsoft did not believe in this project, and didn't pay as much attention as gamers (and common sense) would suggest. These are only rumors of course. What we know for sure is that the game was released too early, as it happened with many others during the last few years. Shortly after the launch, we saw an apology letter from the developer, which is not something of a surprise in 2023.
Source: Arkane Austin
Besides Redfall, Xbox's internal studios only released Pentiment from Obsidian Entertainment and Hi-Fi Rush from Tango Gameworks, which received fairly positive feedback from players and media, but can't really be considered true market hits.
Meanwhile, Sony released a whole series of its hits on PS5 and PC during the same period, such as Horizon Forbidden West, Uncharted Legacy of Thieves Collection, God of War Ragnarök, Ratchet and Clank: Rift Apart, and The Last of Us Remake.
To understand how Xbox may potentially improve the situation, we need to have a look at the recent Xbox Showcase. During the show, Microsoft presented a bunch of upcoming exclusive titles, including the highly anticipated Senua's Saga: Hellblade II, Avowed developed by Obsidian Entertainment, and Fable. Unfortunately, most of the show was dedicated to the releases of 2024, with only a few ones coming out this year. Even those few have potential to change Xbox market share.
The first one is Forza Motorsport — a new installment in the flagship racing sim franchise of Xbox. Considering the specifics of quite a niche racing genre, it is highly unlikely that the new part of Forza will increase the audience and attract attention to Xbox, though the release may positively influence Xbox Game Pass subscription.
However, the star of the show undoubtedly was Starfield, developed by Bethesda, one of the most experienced RPG game makers who are behind The Elder Scrolls game series and Fallout 3-4.
Both titles will be available since launch in Xbox Game Pass. However, Microsoft offers a paid upgrade for both titles in order to get additional content and early access to the game. Let's wait for autumn and hope we won't see any disappointment from both games.
What's Next: More Uncertainty and Hopefully More of the Good Games
The future of Xbox is uncertain. First of all, a lot is at stake when it comes to the ATVI deal. The deal is so groundbreaking, that it will forever change the Xbox position on the market. Nevertheless, there is a lot going on apart from the deal. Autumn releases of Forza Motorsport and Starfield, mounting competition for Xbox Game Pass, potential increase of Xbox Series X supply and a new version of the Xbox Series consoles — all of this might influence the short-term financials of the company.
But speaking long-term, we don't see Xbox using its resources fully yet. Today's Revenue stays almost at the same level as before the Zenimax acquisition. The problem is that Zenimax developed and published a few AAA titles within 5 years. All of the games that drove the company's valuation to $7.5B had already lived through their best-selling time by the moment of the acquisition. Now it's about Xbox using the acquired IP and talent to drive the business further.
Even so, with unprecedented Microsoft resources on hand and a background of 20 years in the industry, the company is here for a long time. So let's enjoy the show and see how the ongoing console war will (or won't) change the industry.
We want to thank MGVC and The Games Fund for supporting this digest.

---
MERGERS & ACQUISITIONS
UPDATE: Sweden-based M.O.B.A. Network (STO: OBAB), the owner of major gaming communities, has completed the acquisition of France-based gaming services and in-app developer Wargraphs for $54.6m (€50m), comprising $27.3m (€25m) initial payment and an earn-out consideration of up to $27.3m (€25m). Wargraphs is primarily known for creating Porofessor, an in-game application on the modding platform Overwolf, offering key statistics and data for popular games like League of Legends. The acquisition aims to support M.O.B.A. Network's mission of enabling creators to share content and gaming strategies worldwide.
VENTURE FINANCING
France-based mobile game developer Million Victories has raised $6.5m a Series A funding round led by Eurazeo and Griffin Gaming Partners. The funds will be used to upgrade and enhance their strategy game, Million Lords, which currently has around 200 thousand monthly active players. The fund will also help Million Victories to expand its team and develop new games across various platforms.
Netherlands-based user-generated games platform Versed has raised $1.7m (€1.6m) in a Pre-Seed funding round led by Google's Gradient Ventures. Versed aims to allow users to create their own RPGs by writing text-based stories and instructions, with its AI interpreting the narrative and generating immersive worlds. Versed currently plans to launch its private beta and aims for a full public launch in the H2'24.
India-based casual mobile games developer HighXP has raised $2.2m in a Seed funding round, led by 3one4 Capital. The sum will be used for further development of social casual games for mobile platforms, as well as increasing the company's workforce. HighXP's first game, Doodle Me, is a free mobile drawing game.
PUBLIC OFFERINGS
Finnish free-to-play mobile games developer and publisher Nitro Games (STO: NITRO) plans to arrange a rights issue of approximately $7.2m (SEK 77.4m). The company will use funds for marketing, user acquisition, and the launch phase of Nitro Games' game Autogun Heroes, as well as finalizing the acquisition of the title. The rights issue is secured by subscription and underwriting commitments of approximately $4.3m, equivalent to 60% percent of the total.