4 Sep — 10 Sep / 2023
Weekly News Digest #36
announced deals' size

$127m
Sumo Group Acquires Mobile Gaming Studio Midoki
Sumo Group Acquires Mobile Gaming Studio Midoki
UK-based work-for-hire gaming company Sumo Group, a subsidiary of China-based tech giant Tencent (SEHK: 700), has acquired UK-based mobile games developer Midoki, for an undisclosed sum.
Founded in 2011, Midoki is primarily known for Plunder Pirates, a strategy MMO mobile game released in 2014, and Knighthood, a turn-based mobile RPG released in 2020. The latter is a flagship title of the company, generating the majority of its Revenue.
Midoki is yet another studio purchased by Sumo in recent years: the company has been using M&A as one of the key instruments of growth and improvement. In Oct'20, Sumo made its largest deal to date: acquisition of Pipeworks Studio for up to $99.5m. However, this is the first announced acquisition by Sumo after being acquired by Tencent in Jan'22 for $1.3B. The previous deal we saw from Sumo was back in Sep'21, when it acquired UK-based games developer Auroch Digital for a total amount of $8.3m.
So why acquire Midoki now? Let's delve into the performance of the company's games to try to find out. According to AppMagic, Knighthood has generated a total Revenue of ~$20.7m and ~8 million downloads since its release. Plunder Pirates shows more modest numbers, with ~$7.5m in Revenue and ~3.2 million downloads during the period from Jan'15 to Sep'23. While Plunder Pirates is noticeably losing its popularity, Knighthood remains relatively stable in terms of Revenue, bringing its developers around $0.5m monthly for the last 1.5 years. It should also be mentioned that the numbers represent Net Revenue from IAP purchases, excluding any sort of ad monetisation.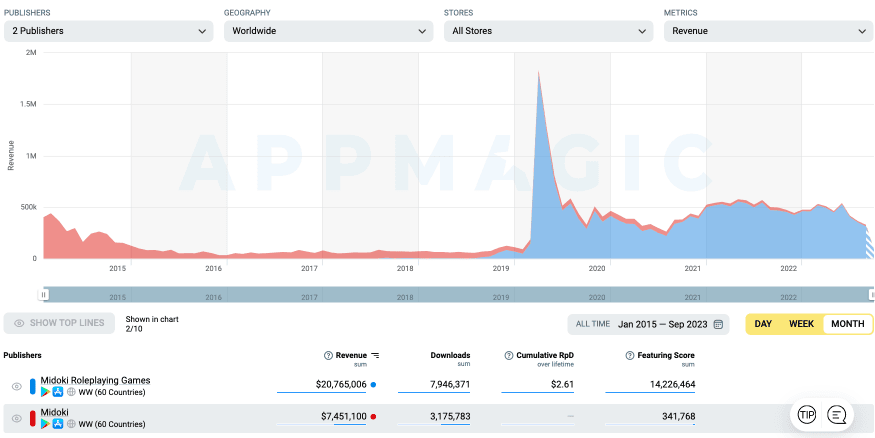 Source: AppMagic
Speaking of the performance of Knighthood, we can't help but mention one loose end: in Jun'21, Germany-based games publisher Phoenix Games acquired a minority stake in Midoki, along with the rights to Midoki's flagship title Knighthood from King, which published the game back then. Today, we see that the initial press release by Phoenix is not available any more, and there is no mention of Sumo Group acquiring the rights from Phoenix Games.
Whatever happens with the rights for Knighthood, it doesn't change the fact that Midoki knows what to do with the game to support players' interest. And this may well be the main reason for Sumo to go for the deal. Though Midoki haven't released many titles so far, the studio proved it can play long-term, constantly supporting their games and making a strong emphasis on LiveOps.
These days, when even huge gaming companies like Playtika stop launching new games because of the challenges the mobile market presents in the post-IDFA era, as well as an oversaturated market, while many gaming companies focus on 'housekeeping', reassessing their portfolio, reviewing their assets and trying to make a maximum of already performing titles, this is where LiveOps expertise becomes especially important. We believe Sumo sees how much benefit Midoki can bring to its partners in the current market, and this is why this deal is happening.
A few more comments about the market, before we jump to Notable Transactions. The deal with Midoki is particularly interesting since we saw only 11 mobile games developers acquisitions in 2023 so far. For comparison, during the same period of 2022 a total of 30 mobile games developers were acquired, with 12 deals having disclosed sums, unlike just one deal in 2023. This is another proof that more companies are focusing on their internal studios and their own IPs, rather than on external expansion. More data on that can be found in our latest Global Gaming Activity Report.
---
We want to thank MGVC and Taylor Wessing for supporting this digest.
---
MERGERS & ACQUISITIONS
The Netherlands-based publisher Soedesco has acquired Bulgaria-based game developer Kyodai, for an undisclosed sum. This move aims to expand Soedesco's development capabilities and global presence. Kyodai is known for its multiplatform action game Elea and anticipated Truck Driver: The American Dream, a part of Truck Driver games series. The company will retain its creative independence and will get support from Soedesco.
US-based gaming company Atari (ENXTPA:ATA) acquires the Atari-focused community and news site AtariAge, for an undisclosed sum. The site, founded in 1998 and known for its archives of Atari hardware and software, will continue to be managed by its founder, Albert Yarusso, who will also serve as Atari's internal historian. This acquisition strengthens Atari's commitment to preserving retro gaming history and resources.
VENTURE FINANCING
Hong Kong-based Animoca Brands (ASX: AB1) has raised $20m in a new funding round, led by CMCC Global. The sum will be spent on further development of the company's flagship Web3 metaverse project, Mocaverse. Animoca Brands aims its project to become the identity and point system for Web3 gaming, culture, and entertainment, with a focus on empowering users to create digital identities and accumulate reputation and loyalty points.
US-based mobile games developer Harmony Games has raised $2.7m in a funding round, according to the SEC filing. The company was founded in 2023, and is currently developing its first hybrid-casual game, the title of which is yet undisclosed.
Portugal-based Web3 games developer and publisher GAM3S.GG, formerly known as Polkastarter Gaming, has raised $2m in a Seed funding round led by Mechanism Capital, with participation from Polygon Ventures, Double Peak, ArkStream Capital, LD Capital, and ROK Capital and other investors. The sum will be used for further elaborating existing titles and features and developing new ones, as well as growing the company's community.
PUBLIC OFFERINGS
Sweden-based gaming company Stillfront Group (STO: SF) has issued senior unsecured bonds totaling $90.3m (SEK 1B) under a total framework of $180.6m (SEK 2B). The new bonds carry a floating interest rate and will mature on Sep'14, 2027. Stillfront has also completed a tender offer for its existing senior unsecured floating rate bonds maturing on Jun'24, repurchasing $45m (SEK 498.75m) out of $90.3m (SEK 1B) worth of bonds. This financing move aims to refinance existing debt and support general corporate purposes, strengthening Stillfront's financial position.
India-based gaming and media firm Nazara Technologies (NSE: NAZARA) has raised $12m (Rs 100 crore) from Zerodha co-founder Nikhil Kamath for expansion into the Indian game publishing space. Nazara plans to launch a local publishing arm and bring global games to India. They have already invested $0.5m (Rs 4.15 crore) in Israel-based game developer Snax Games. The company reported a 31% increase in profit after tax for Q2 FY24 and aims to issue shares to Kamath at Rs 714 apiece.