13 Feb — 19 Feb / 2023
Weekly News Digest #7
announced deals' size

$282.5m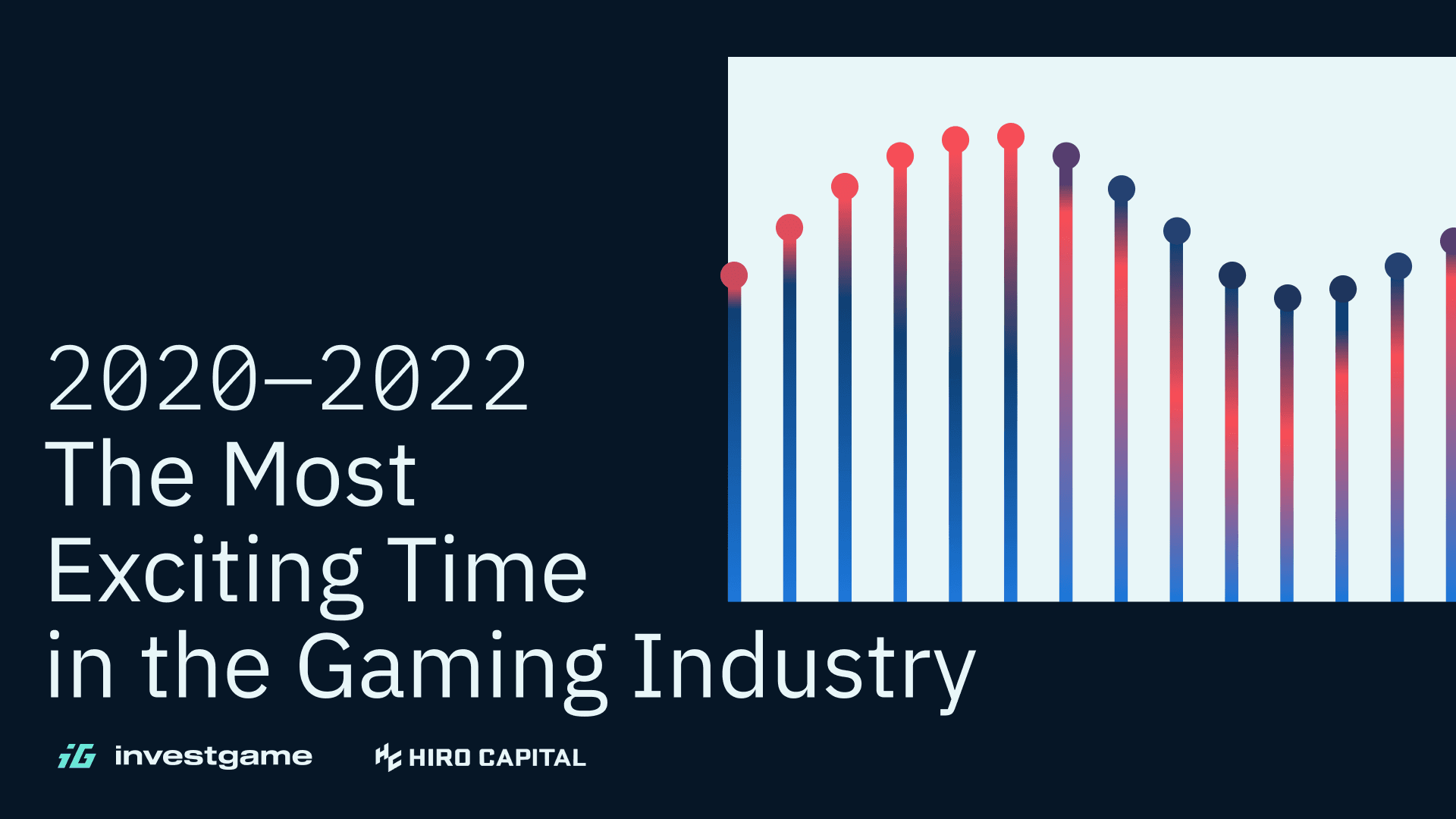 Global Gaming Deals Activity Report 2020—2022
Hi all,
InvestGame team is proud to share with you our Global Gaming Deals Activity Report 2020–2022.
The past three years have marked a cycle of robust investments and growing deal activity, which has far exceeded previous periods, and transformed the gaming industry landscape. This Report covers everything that's happened in gaming investments during these years, from the explosive growth to the times of turbulence.
Please enter your e-mail to get the Report, and read the short summary below.
Enter your email to get the Report
InvestGame uses the email address you provide to contact you about our Gaming Deals Reports, Weekly Digests, and other relevant content. You can unsubscribe from our emails at any time.
Thank you for reading and supporting the InvestGame team!
We would love to thank our friends from Hiro Capital for supporting this Report, our colleagues from Naavik for helping us out with the Blockchain gaming analysis, and a special thank you to White Label PR agency for connecting us with top tier media outlets!
---
We want to thank MGVC and The Games Fund for supporting this digest.

---
 MERGERS & ACQUISITIONS
US-based mobile app analytics & attribution platform Kochava has acquired UK-based marketing technology company Machine Advertising. Financial terms of the deal were not disclosed. The acquisition will allow Kochava to strengthen its measurement solutions and increase its presence in the EMEA region.
Saudi Arabia-based Public Investment Fund (PIF) has increased its stake in Nintendo(TSE:7974) to 8.26%. Before that, the fund owned 6.07% of Nintendo — 5% were purchased in May'22, and 1.07% in Jan'23. You can read more about PIF activity in one of our previous Weekly News Digests.
 VENTURE FINANCING
India-based esports company Newgen Gaming has received a $1m investment from India-based mobile games publisher nCore Games. The funding will go towards the company's growth and expansion of its operations in MENA and South Asia regions.
Chinese esports company VSPO, formerly known as VSPN, has raised $265m in a funding round led by Savvy Games Group, a subsidiary of Saudi Arabia's Public Investment Fund. The sum will be used for further worldwide expansion, including a focus on mobile Esports in PIF's homeland.
US-based video games developer Telltale Games, known for such gaming franchises as The Walking Dead, Batman, and others, has raised $8m in a Series A round led by Hiro Capitaland Skybound. The company is going to use the funding to further develop its titles, among which are The Wolf Among Us 2, The Expanse, and an unannounced game.
Newly established France-based Web3 game developer Unagi has received $5m in funding. The seed round was led by Sisu Game Ventures, with participation from Sfermion, UOB Ventures, Signum Capital, and others. The company is going to use the money to expand its main title Ultimate Champions, a Web3 fantasy Esports gaming title.
US-based Web3 space simulation game developer Million on Mars has raised $3.5m in a seed funding round, led by Great South Gate and Widus Partners. The money will help to enhance the eponymous game in terms of both gameplay and visuals.