back to ALL NEWS
Anzu Raises $48m in Series B Funding Round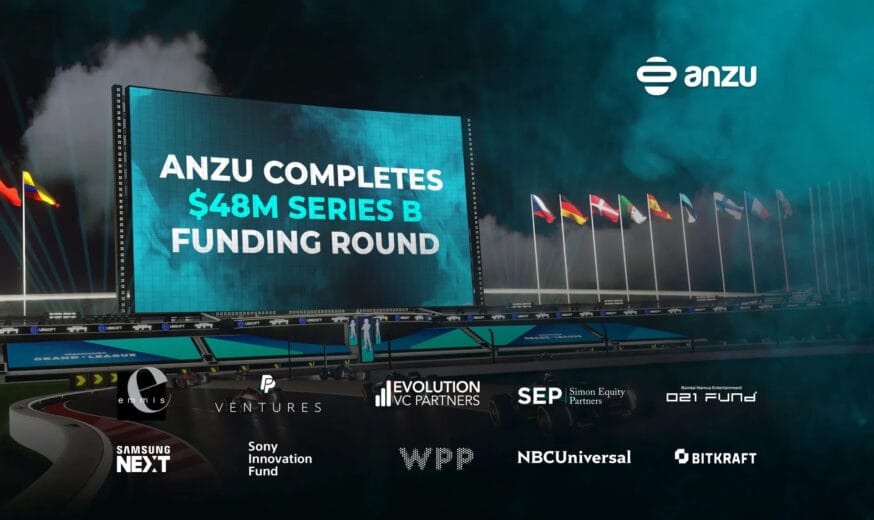 LATER VENTURE
---
This article is based on our Weekly News Digest #26 from 03.07.2023. If you want to receive such analyses first, be sure to subscribe to our weekly newsletter. There, we analyze the largest deals, elaborating on the financials and strategy behind, while also covering the smaller transactions of the week.
---
Israel-based in-game ads solution company Anzu has raised $48m in a Series B funding round led by Emmis Corporation. The new investors of the round include PayPal Ventures, Evolution, Simon Equity Partners, and Bandai Namco Entertainment 021 Fund. As for returning investors, there are Sony Innovation Fund, NBCUniversal, WPP, BITKRAFT, Samsung Next, Harris Blitzer Sports & Entertainment (HBSE) Ventures, Axel Springer and Marquee Ventures.
The deal will include the conversion of SAFE notes, and become a 10x exit for some of the early investors of Anzu, who the company has not disclosed. Since its foundation in 2017, Anzu had closed three other rounds of funding:
— In Mar'22, Anzu raised $20m in a funding round led by NBCUniversal and HTC (TW: 2498);
— In Feb'21, the company received a $9m investment in a round led by BITKRAFT and Sony Innovation Fund;
— In Aug'19, the company secured a $6.5m round led by BITKRAFT.
Anzu specializes in providing solutions for non-intrusive ads within video games. It connects advertisers and game developers, to integrate ads into the in-game environment. The new funding will allow the company to build out its global leadership team, grow its US footprint by establishing new teams in the country, and to maintain its independence.
In-game advertisement blended into the gaming environment is still kind of novel, and the market has yet to see its true leaders. Over the last 3,5 years, we saw a moderate interest in the niche from the investors: Admix closing a $25m Series B round, Bidstack securing an $11m investment, and Frameplay raising $8m in a Series A round — these are some of the most notable examples.
As for Anzu, since the platform has raised a total of $83m over the course of the last four years, the company has good chances to become the leader of the niche. The market is still relatively small, but is expected to grow fast. How big is the market though? According to MRFR, the in-game advertising market is projected to grow from $8.2B in 2023 to $20.7B in 2032.
One assumption may be that new startups like Anzu will become a more common thing when and if the metaverse trend becomes not just a marketing gimmick, but a fully-operational product. The in-game advertising might be one of the possible formats of monetization for the various metaverse projects, balancing between gaming and social experiences. We already saw Fortnite collaborating with Nike, McDonald's, and Samsung among other brands, and the game is often labeled as one of the first proto-metaverses. Apart from that, there are examples like Roblox, Rocket League, FIFA, NBA 2K, and even Halo. In this sense, online games look especially tempting for advertisers, since they have clearer audience metrics, while gamers are easier to 'read' for developers, due to longer relationships, IAPs and live-ops data.
Moreover, now that there are over 3.2 billion people playing video games across all the possible platforms, the in-game environment becomes a part of daily life for almost 40% of the planet, and the number only goes up. This means that pretty much every brand has potential gamers among its audience, and it is only a matter of time for the businesses to find new ways of reaching them.
Looking at Anzu's business from investors' perspective, we see an already established business model, which is now becoming significantly more used than before, while the growth of the in-game ads market is accelerated by the ongoing growth of the gaming industry as a whole. The new generations these days feel much more comfortable in the virtual worlds, and there are plenty of ways to communicate with them inside this comfort zone. Will the intrinsic in-game advertisement become one of the major Revenue sources for game developers, and will it be able to be as efficient as ads inside movies and TV? Only time will tell.
Subscribe for our weekly newsletter
Get the weekly digest on all the latest gaming transactions, with the number and size of the deals, as well as the strategic rationale behind them.