9 Aug — 15 Aug / 2021
Weekly News Digest #32
announced deals' size

$4.2B
Krafton Raised $3.75B Through IPO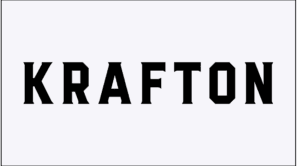 Rovio Acquires Ruby Games for an Undisclosed Sum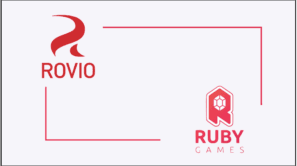 Unity Acquires Parsec for ~$320m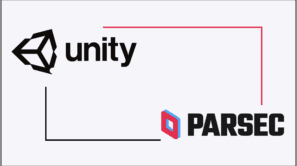 Hi all,
We hope you joined us for the Elite Game Developers webinar last week, where we discussed the H1'21 gaming deals report with Joakim Achren of EGD, and Micha Katz of Aream&Co. In case if you missed it, please feel free to enjoy the record.

South Korean gaming holding Krafton, the creator of PUBG franchise, has raised $3.75B through IPO at a valuation of $19.32B.
The IPO had been originally planned for Jul'21, but was then pushed to Aug'21. Initially, Krafton was aiming for $5B proceeds. However, after regulators questioned its valuation, the company had to re-evaluate the indicative price range and lowered the expected proceeds amount by 25%.
The debut was the South Korean second-largest after Samsung Life Insurance $4.3B listing in 2010. Following the debut, Krafton joins the ranks of South Korea's biggest game developers such as Nexon ($17B valuation) and NCSoft Corp. ($15.5B valuation).
For 2020, Krafton reported Revenue of $1.47B (+53.6% YoY) and Operating profit of $682m (+115.4% YoY). In Q1'21 PUBG generates almost 96.7% of the company's Sales from all platforms.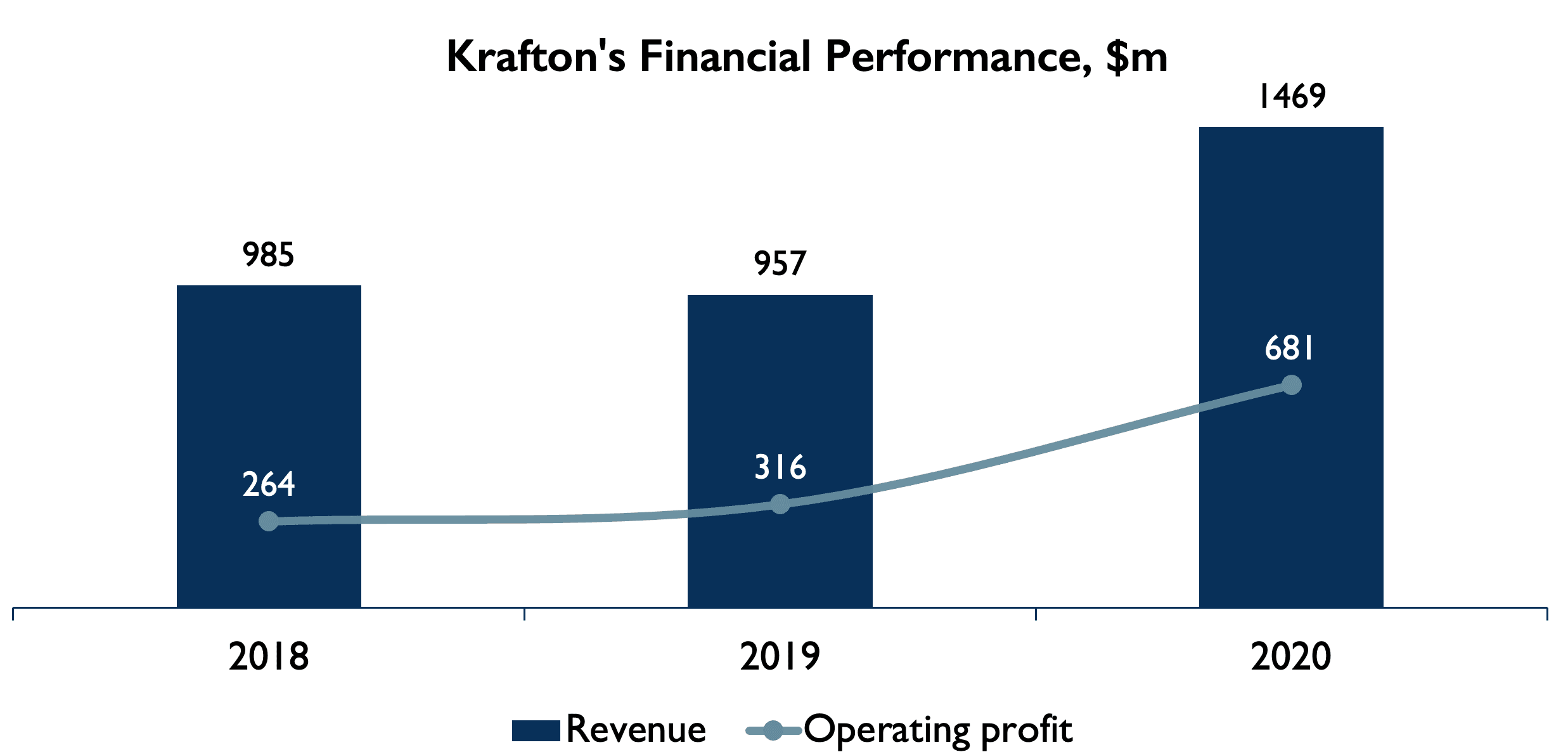 Products Overview
Krafton is best known for its multiplatform battle royale franchise PUBG — the mobile version of the game has over 1 billion lifetime downloads, while the PC&console versions have over 75 million copies sold.
Currently, the company works on Playerunknown's Battlegrounds: NEW STATE — a new mobile game of the franchise, which has already completed its alpha testing in the United States and is planned to be released this year. Furthermore, Krafton develops several new titles, including The Callisto Protocol, Project Windless, and Project Cowboy.
Krafton has two other studios under its wing:
— Bluehole, a PC-focused developer behind TERA (The Exiled Realm of Arobea), a flagship MMORPG, which was one of the first MMOs to integrate non-targeting combat systems;
— RisingWings, a mobile game developer with several successful products in its portfolio, including golf simulator Golf King and multiplayer bowling game Bowling King.
Finland-based multiplatform company Rovio (NASDAQ Helsinki: ROVIO) acquires Turkish mobile game studio Ruby Games as a part of the strategy to diversify its games portfolio with hyper-casual titles and attract new audiences.
Ruby Games — the story behind
Ruby Games was founded in 2018 in Izmir, Turkey with a focus on hyper-casual mobile games. The studio is consistently releasing new hyper-casual titles. Ruby Games has 600+ million downloads across all games.
The details of the deal are the following:
— Rovio will acquire 20% of Ruby's shares for $10m in cash in the first tranche, which is expected to close by the end of Q3 – beginning of Q4 2021
— In the second tranche (Oct'22) Rovio will acquire 50% of Ruby's shares for up to $80m paid 60% in cash and 40% in Rovio's shares. The precise amount will be based on Ruby's financial performance in the 12-month period preceding Oct'22
— Rovio will purchase the remaining 30% of Ruby's shares in five equal tranches over the next five years in cash and shares at a valuation based on Ruby's financial performance measured by EBITDA for each period (not exceeding total EBITDA generated during the period)
H1'21, Ruby Games generated $7.8m in Revenue, $3.5m in Adjusted EBITDA, and Adjusted EBITDA margin of 45.1%
This is the first Rovio deal since Jun'20 when it acquired Denmark-based F2P mobile game developer Darkfire Games. Taking into consideration the latest financial report, we may expect more activity from Rovio in the M&A field in the future.
American video game software developer Unity (NYSE:U) is acquiring New York-based tech company Parsec, for approximately $320m in cash. The deal is expected to be closed in Q3 2021.
Unity believes Parsec technology to be the future of gaming and game development as it allows its users to get access to powerful hardware from basically anywhere in the world and from any device.
Some of the main Parsec tech solutions include:
— remote desktop streaming software that uses a peer-to-peer networking protocol called Better User Datagrams (BUD). It allegedly adds only 7 milliseconds of latency to the video;
— Parsec for Teams subscription provides more features like additional administrative tools, better color accuracy, and multiple screen streaming.
Gaming companies like Electronic Arts, Ubisoft, and Square Enix have been using Parsec as a solution for their hybrid work models.
In Jan'18, Parsec partnered with HP to create a free cloud gaming service OMEN Game Stream designed specifically for HP Omen PCs.
 MERGERS & ACQUISITIONS
German casual games developer Softgames sells its web business to Netherlands-based media and technology company Azerion in order to focus on Instant Games. By this acquisition Azerion gets access to the 300 premium web games and a crossword puzzle platform designed by Softgames.
Swedish video game holding company Thunderful Group acquired 91% of Sweden-based game studio To The Sky for an undisclosed and is now going to invest $5m into its debut title. Thunderfull group has also bought a film production company Tussilago for around $115k.
Pokémon Go developer Niantic acquires Toolbox AI's 3D scanning mobile app Scaniverse.
Scaniverse will remain a standalone app, while the technologies of the company will help Niantic to enhance players engaging experience. Scaniverse founder and CEO Keith Ito to join Niantic's AR engineering team.
VENTURE FINANCING
US-based mobile gaming company AviaGames, the developer and publisher of the Pocket7Games platform, receives a $40m investment from ACME Capital, Washington Harbour Partners, and Powerhouse Capital. The investment will be used to expand the team and strengthen the company's international presence, accelerate player acquisition, and develop new games for the platform.
VR games developer Thirdverse (formerly Yomuneco) raised $20m in Series A and B rounds led by JAFCO and assigned Hironao Kunimitsu, the founder of Gumi and co-founder of Thirdverse, as its CEO.
Gaming and esports marketing&communications agency Freaks 4U Gaming secures a $17.6m investment from Co-Investor Partners. The deal marks the first investment received by Freaks 4U Gaming and the first-even investment in the esports and gaming sector made by Co-Investor Partners
Seattle-based game studio started by former King and Z2Live mobile game veterans Starform raises $5m in a funding round led by BITKRAFT Ventures. The studio will use the funding to develop and market its upcoming game and expand the team.
Turkey-based PC&console game developer Hero Concept receives $3m from investment company WePlay Ventures. The investment will be used to expand Hero Concept's team.
Slovenia-based company created by two chess Grand Masters Duško Pavasović and Luka Lenic Kings of Games raises funds for its mobile game Chess Universe. The game has been released and already has over a million downloads. The funding is meant to help the developers to focus on the title's live operations and updates.