23 Aug — 29 Aug / 2021
Weekly News Digest #34
announced deals' size

$165m
On August 27, Cyprus-based mobile & social network game developer Nexters went public through a merger with Kismet Acquisition One Corp — a special purpose acquisition company (SPAC), founded by former MegaFon PJSC general manager Ivan Tavrin.
The newly combined company, which will operate as Nexters inc., is now trading on NASDAQ under "GDEV" symbol for ordinary shares and "GDEVW" — for warrants. The transaction brings to Nexters around $132m in cash — the funding comes from Kismet trust account, Kismet Sponsor Limited, Mubadala Investment Company, and VPE Capital. Part of the the sum will go to the shareholders, while the other part is planned to support both organic and inorganic growth initiatives, finance the development of new, mostly casual, titles, and accelerate the expansion into the new regions.
Nexters is actually aiming to become "the leading consolidator" in the CIS and Eastern European Regions. Going public, allows Nexters to gain additional resources to implement its ambitious strategy.
Business Overview
Nexters is a mobile game developer behind Hero Wars — the mobile action RPG has been downloaded more than 120 million times. The title was initially launched back in 2016, and Nexters is planning to begin developing the sequel of its flagship product this year. However, it is too early to speak about the release date. The company is also known for the casual adventure game Island Experiment and MMORPG Throne Rush — overall, Nexters' games have more than 200 million installs.
For the past two years, Nexters has been showing significant growth in Revenue (from $93.8m in 2019 vs. $259.5m in 2020) and Bookings ($169m in 2019 vs. $443m in 2020). As for the profitability of the company, Nexters reported $33.7m Net Loss in 2019 but managed to move to positive numbers in 2020, showing $0.7m Net Profit.
Around 37% of Revenue comes from the US, which is currently the best-performing region of the company. Other significant Revenue shares are generated by Europe (24%) and CIS + Baltic countries (15%). The absolute majority of the numbers comes from in-game purchases (94%) — the low advertising revenue is common for the genre.
Initially, the company was forecasting ~84% growth of Bookings during the 2021-2023 period. However, the growing scale and efficiency of user acquisition during the Jan'21-May'21 period made Nexters revise its forecasts. The company believes, that the forecast below shows more accurate perspective of its future performance: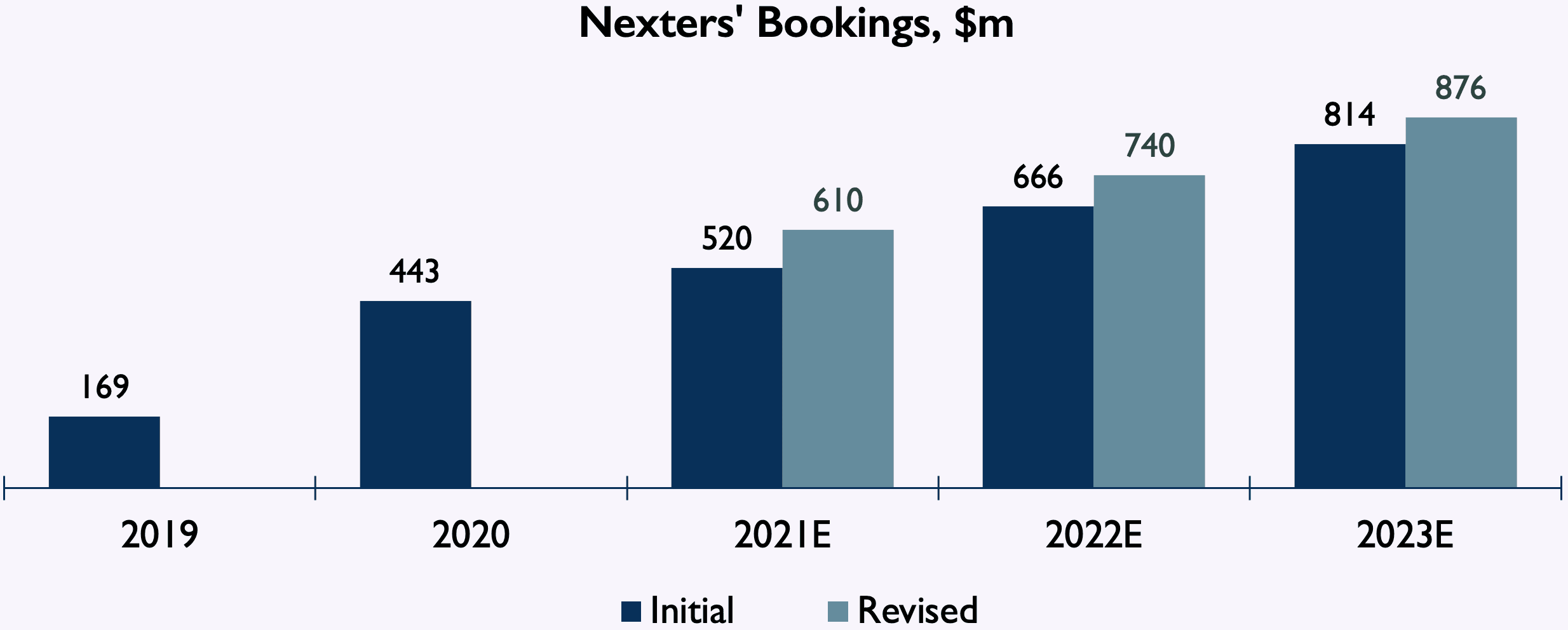 Now the company projects further growth and plans to almost double its bookings in 2023. Well, this doesn't seem impossible, especially, if Nexters successfully implements its M&A strategy, successfully launches its new internally developed titles, and continues to build on the success of the established Hero Wars franchise.
American mobile app marketing and retargeting company Liftoff and UK-based mobile advertising and monetization company Vungle have entered into an agreement to merge into one company focused on global mobile growth monetization and marketing. The deal is expected to close at the end of Sep'21.
We observe an increased consolidation activity in the mobile marketing and monetization businesses, because of the growing competition and the new difficulties of the post-IDFA world. Before the current transaction, Vungle made three acquisitions this year, buying GameRefinery, TreSensa Technologies, and JetFuel. There are plenty of other examples: Applovin and Adjust, Digital Turbine Media and Adcolony, and the Azerion acquisition spree we are writing about below are just a few of the recently closed transactions.
But here we have a little bit different situation. Both Vungle and Liftoff are the subsidiaries of one of the leading US-based investments firm Blackstone. So it seems to be a logical step for the company to unite its two strong subsidiaries to strengthen its position in the more and more consolidated market.
 MERGERS & ACQUISITIONS
US-based video game software developer Unity Technologies (NYSE:U) has acquired Switzerland-based OTO, an AI-driven acoustic intelligence tool, which is going to be integrated into Unity's voice & text chat platform Vivox to prevent toxic behavior among players.
The Netherlands-based game monetization company Azerion has acquired Sweden-based mobile advertising platform Keymobile for an undisclosed sum. Earlier this year, Azerion has acquired two other advertising tech companies in Sweden: Strossle and Delta Projects.
Malta-based sports betting company Kambi Group has acquired Sweden-based esports data company Abios for up to ~$31.1m, including $17.3m upfront and $13.8m potential earn-out. After the acquisition, Abios will not only focus on Kambi's customers but will continue providing its services to its clients outside the parent company.
VENTURE FINANCING
US-based user-generated games publisher Infinite Canvas has raised $2.8m in a pre-Seed funding round led by Lightshed Venture Partners, with participation from BITKRAFT and others. The funds will be used to encourage indie creators to build their virtual experiences for Roblox, Fortnite, and Minecraft.
Turkey-based game development studio Apphic Games has secured a $170k investment from Turkish investment company WePlay Ventures for its future PC and mobile projects.
Subscribe for our weekly newsletter
Get the weekly digest on all the latest gaming transactions, with the number and size of the deals, as well as the strategic rationale behind them.