6 Sep — 12 Sep / 2021
Weekly News Digest #36
announced deals' size

$936m
Jam City Raises $350m and Acquires Ludia for $165m
Stillfront Acquires Jawaker for $205m upfront and Closes Direct Share Issue
Enthusiast Gaming Acquires Addicting Games for $34.4m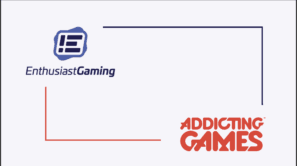 Ludia Acquisition
US-based mobile games developer and publisher Jam City has completed the acquisition of Canada-based mobile game studio Ludia from Fremantle for $165m.
Initially, Jam City intended to purchase Ludia for $175m using the proceeds from its SPAC merger, announced in May'21. The deal would have valued the new company at $1.2B, but the combination was eventually called off in Aug'21, which put the acquisition of Ludia on hold.
Founded in 2006, Ludia (former Newplay Corporation) is a Canada-based mobile games developer, best known for third-party licensed games, based on Dungeons & Dragons, Jurassic World, Dragons, and some of the key Disney franchises. The company created its original games as well, including dating app simulator Lovelink and a visual role-playing novel What's Your Story?
With the acquisition, Jam City gets a pretty solid portfolio of IP-based titles, which appears to be a great fit for Jam City's own list of licensed games. As for Ludia, it gets a strategic partner with rich experience, vast resources, and plans for going public (we saw Jam City making three attempts in these regards).

According to AppMagic, the games of the studio have been downloaded more than 295m times, with a peak of 9.6m downloads in Jun'18, generated mostly by the newly-launched Jurassic World Alive game.
New Round of Funding
Jam City has also raised $350m in its so far the largest round of financing from Netmarble, Kabam, and affiliates of Fortress Investment Group. The proceeds will be used to solidify Jam City's M&A strategy and accelerate the growth of its current studios.
Prior to the latest round, Jam City closed three other rounds:
— In Apr'19, the company has raised $145m from JPMorgan Chase Bank, Bank of America Merrill Lynch, and a syndicate of lenders, including Silicon Valley Bank, SunTrust Bank, and CIT Bank, N.A.;
— In Jul'15, the company has raised $130m from Netmarble, a Korean gaming giant and a participant of the new Jam City's round;
— In Mar'10, the company has raised $28m investment from Austin Ventures.
Stockholm-based multiplatform game developer and publisher Stillfront Group (NASDAQ:SF) has entered into an agreement to acquire Abu Dhabi-based mobile game studio Jawaker for $205m upfront, paid 74% in cash and 26% in shares. Сertain sellers may also receive additional earn-out considerations:
— a maximum $20m paid fully in cash if unspecified EBIT goals for 2021 are met;
— several additional earn-out payments of 1.0x EBIT for each of the 2022-2026 financial years, paid 70% in cash and 30% in Stillfront shares.
Jawaker has reported $15.7m in Net Revenue and $9.8m in Adjusted EBIT for the first half of 2021 and is expected to generate Net Revenue of approximately $31.9m-$36.6m and an Adjusted EBIT of approximately $21.3m-$24.8m for the year 2021. Based on the average estimated financial performance for 2021, the transaction multiple is 9x Upfront/Adjusted EBIT.
The transaction is expected to be completed on October 4, 2021. To finance a part of the acquisition, Stillfront has secured an additional $114.1m through a directed share issue. For Q2'21, Stillfront reported Net Revenue of $163.8m (vs. $124.8m in Q2'20) and EBITDA of $62.6m (vs. $49.2m in Q2'20). The company reported a Net Profit of $17.7m in Q2'21 (vs. $19.4m in Q2'20).*
Jawaker is especially known in the MENA (Middle East and North Africa) region with its Jawaker: Card Games and Friends — a single hub for +30 card & board games, based on popular classic regional games of the target countries.
The acquisition will further strengthen Stillfront's presence in the MENA region, diversify its games portfolio, and fuel future organic growth. Jawaker is expected to improve its performance and accelerate scaling, collaborate with internal studios within Stillfront Group, and using the company's vast resources and expertise in marketing and localization.
* for 2021-2023 $1 = SEK 8.4694; for 2021 $1 = SEK 8.4694;
for Jan'21-Aug'21 $1 = 8.4694 SEK; for H1'21 $1 = SEK 8.4039;
for Q2'21 $1 = SEK 8.4086; for 2020 $1 = SEK 9.2037; for Q2'20 $1 = SEK 9.6897 
Toronto-based entertainment platform and esports event company Enthusiast Gaming (TSX: EGLX, NASDAQ: EGLX) has acquired US-based casual games website Addicting Games for $34.4m, including $22m upfront paid 45% in cash and 55% in shares — please visit our website to learn the elaborate structure of the deal.
Addicting Games is an online portal that provides an extensive library of over 1.5k casual titles across action, sports, puzzles, and other genres. The platform has approximately 10 million MAU and monetizes by subscriptions and in-app purchases offered in games.
Enthusiast Gaming owns more than 100 websites and over 1,000 YouTube channels. The company collaborates with more than 550 esports influencers and has an overall number of 300 million MAU, with 3.2 billion web page views per month. For Q2'21, Enthusiast Gaming reported Revenue of $37.1m (vs. $7m in Q2'20). The company reported a net loss of $12.8m in Q2'21, compared to a net loss of $6.8m in Q2'20.
The acquisition goes in line with Enthusiast Gaming's active inorganic growth strategy. This is the fourth acquisition Enthusiast Gaming has made this year — earlier, the company has acquired Icy Veins (for $8.5m), TabWire (for $11m), and GameKnot (for $2.75m). Addicting Games gives the company more MAU interested in casual gaming, and unlocks new revenue streams such as in-game purchases, while also giving resources to develop new titles.
 MERGERS & ACQUISITIONS
Sony has announced the acquisition of UK-based game developer Firesprite, which is mostly known for working on The Playroom, and The Playroom VR titles. This is the 14th studio in the PlayStation Studios lineup. The details of the deal are not disclosed, and it's not clear what game Firesprite is currently working on.
US-based provider of tools for live-service games AccelByte has raised $10m in Series A round led by Galaxy Interactive, with participation from gaming companies NetEase, KRAFTON, and Dreamhaven. The funding will be used for the general development of its core products and establishing of new strategic partnerships.
UK-based esports company Gfinity announced the acquisition of all assets of Rainbow Six Siege-focused resource SiegeGG. The acquisition will provide Gfinity with SiegeGG's technical capabilities in statistical analysis, which can be used for across other titles from the Gfinity platform.
Isle of Man-based esports company X7 Esports has acquired another UK-based esports organization Bulldog Esports for an undisclosed amount.
VENTURE FINANCING
Singapore-based AAA game development service provider Virtuos has received an investment of $150m. The round was led by Baring Private Equity Asia (BPEA) which is now the biggest external shareholder of the company. The funding will be used for further growth of the studio, including new strategic partnerships and acquisitions.
Israel-based Roblox games developer Toya has raised $4m in funding after its Miraculous Ladybug-based game reached 200 million plays on the platform. Funding will be used for further growth and expanding the studio's presence on Roblox platform.
Barcelona-based gaming video-streaming platform Gamestry has raised $5m in seed funding, led by Goodwater Capital, Target Global, and Kibo Ventures. The proceeds will support the further development of the platform.
US-based fintech firm Zebedee has raised $11.5m in a round led by Lakestar, to accelerate the development of its Bitcoin-based payment platform for gamers.
India-based company Polygon, the creator of an eponymous platform for blockchain games, has invested an undisclosed amount in Decentral Games. The funding will be used to boost the play-to-earn blockchain games model.