18 Oct — 24 Oct / 2021
Weekly News Digest #42
announced deals' size

$1.7B
Scopely acquires GSN Games from Sony Pictures Entertainment for around $1B
Murka Games acquires Mobile Deluxe for an undisclosed sum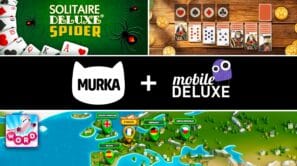 Hi all,
Before we dive into this week's digest, there's a couple of news: first, we want to introduce our new 'Digest+' Patreon tier. Support us through this option, and we'll be happy to place your logo (with the appropriate link) in each of our future digests, starting from the next week.
Second, we are working super hard on our Q3'21 report. Stay tuned!

American mobile game developer and publisher Scopely has announced the ongoing acquisition of US-based social casino games developer GSN Games from Sony Pictures Entertainment for around $1B, paid ~50% in cash and ~50% in preferred shares.
GSN Games was founded in 1999 as a platform for online casual games competitions for cash and prizes called WorldWinner.com. Its first moves towards online gaming were made in 2007, but one of the key events in the history of the company happened in 2014 when GSN Games acquired Bash Gaming and thus entered the mobile casual free-to-play gaming industry. Since then, GSN Games, made several other M&As in the social casino genre, including the purchase of Idle Gaming, Plumbee, and Edenic Games.
Currently, there are more than 20 titles in the studio's portfolio with the top-grossing ones being Solitaire TriPeaks Card Games, Bingo Bash: Social Bingo Games, and GSN Casino: Slot Machine Games, according to Appmagic.
As for Scopely, it has one of the most diversified portfolios of casual and mid-core games in the industry (look at Scrabble Go, Looney Tunes World of Mayhem, or Marvel Strike Force, for example). This includes the social casino genre with such games as Slots Vacation, Wheel of Fortune, and Dice with Buddies. With the acquisition, Scopely gets an experienced team of around 400 employees on board and significantly expands into the social casino genre.
This acquisition is one of the ways Scopely uses its proceeds raised over the course of eight funding rounds since 2012. Earlier this year, the company also invested $50m into three gaming studios: Omnidrone, Pixel Toys, and Tag Games. Considering the amount Scopely has raised so far (around $1B) and the growth the company shows (it tripled its Revenues from 2018 to 2020, according to the press release), we have all the chances to see Scopely among the most active strategic investors of the industry in the near future.
Headquartered in Cyprus with an operational office in Ukraine, social casino games developer Murka Games has acquired US-based Solitaire games developer Mobile Deluxe for an undisclosed fee.
Mobile Deluxe is a Solitaire and social casino games developer, best known for its Solitaire Deluxe franchise. With the acquisition, Murka Games has acquired several promising IPs and a team of 20 employees with the genre expertise. After the deal, the total headcount of Murka Games has reached 600 employees, which makes it one of the largest social casino gaming companies in the world.
Founded in 2011, Murka is best known for its Scatter Slots, Slots Era, and Infinity Slots titles. According to Appmagic, all the games of the studio have been downloaded over 63 million times, generating more than $440m from in-app purchases.
 MERGERS & ACQUISITIONS
Singapore-based provider of cross-border payments and distribution solutions for digital content Coda Payments is acquiring China-based mobile esports platform BAASH from developer CAPSL Entertainment Ltd. The terms of the deal are not disclosed. The acquisition will allow Coda to expand its existing gaming products and solutions, including its global marketplace for digital gaming content — Codashop.
Australia-based slot machine manufacturer Aristocrat has entered into an agreement to acquire American-based gambling company Playtech in a ~$3.7B deal. (Note: Though Aristocrat is partially a gaming company, this deal is more about gambling, so we won't count its deal value in our reports and the digest header).
Netherlands-based media technology company Azerion has announced the acquisition of Bulgaria-based PubGalaxy, a digital monetization platform. The terms of the deal are not disclosed, while the acquisition will help Azerion to boost its monetization capabilities.
France-based games publisher and developer Focus Home Entertainment announced the acquisition of a France-based studio Douze Dixièmes, a developer of Shady Part of Me, which was published by Focus Home. The terms of the deal are not disclosed.
China-based tech giant NetEase announced the closing of the acquisition of Japan-based studio Grasshopper Manufacture. The studio is led by Goichi 'Suda51' Suda, the person who created such titles as No More Heroes, Killer7, and Lollipop Chainsaw. The terms of the deal are not disclosed. NetEase Games focus on advising in business planning activities and providing sufficient funding for games development, while the studio will continue its focus on a unique console gaming experience.
Poland-based games publisher and developer  CD PROJEKT GROUP announced the acquisition of US-based games developer The Molasses Flood, creators of such titles as The Flame in the Flood, and Drake Hollow. The studio will be working in close cooperation with CD PROJEKT RED, but will keep its current identity and will not be merged with existing teams. The terms of the deal are not disclosed.
VENTURE FINANCING
US-based digital gaming art studio Concept Art House raised $25m in Series A funding from various NFT platforms and digital asset investors including Dapper Labs, Animoca Brands, Anthos, and others. The funding will be used for creating NFT games and pieces of digital art.
Hong-Kong-based blockchain and NFT gaming company Animoca Brands has raised $65m in Series B+ funding round with the participation of Liberty City Ventures, Ubisoft Entertainment, Sequoia China, and others. With this round, the company's valuation has reached $2.2B. The funding will be used for strategic investments and acquisitions, product development, and licenses for popular intellectual property.
US-based NFT-games developer Parallel has raised $50m from Paradigm and reached a $500m valuation. The funding will be used for the development of NFT sci-fi card game Paradox on Ethereum blockchain.
US-based casual and mid-core mobile games developer Kazoo Games has raised $12m in Series A funding, led by Singapore-based publisher Garena. The funding will be used for the development of upcoming titles of the studio for mobile devices.
US-based social gaming platform Piepacker has raised $12m in Series A round led by LEGO Ventures. with participation from Makers Fund, and others. The funding will be used for the company's growth and an expansion of the platform to more devices and territories.
FUNDRAISING
US-based newly formed venture capital fund Patron from former Riot Games employers has raised $90m. The company plans to invest in games and game technology.
US-based Galaxy Interactive has raised $325m for its second fund with a focus on games and related technology investments. As of now, this is the biggest gaming-related venture fire with more than $650m combined assets under management.
US-based toy producer Spin Master has established Spin Master Ventures, a $100m fund with a focus on toys, entertainment, and digital games investments. The fund has already made its first minority investments in Sweden-based mobile games developer Nørdlight and online tutoring service Hoot Reading.
According to the SEC Form D filing, US-based Sisu Game Ventures fund has raised $50m for its second fund with a focus on investments in gaming start-ups. However, no official announcement has been made so far.
Subscribe for our weekly newsletter
Get the weekly digest on all the latest gaming transactions, with the number and size of the deals, as well as the strategic rationale behind them.