1 Jan — 9 Jan / 2022
Weekly News Digest #2
announced deals' size

$13.7m
Hi everyone,
Welcome to the first InvestGame Weekly Digest of 2022. We hope you had a great Holiday season, and wish you a wonderful year ahead! As seen by today's announcement of Take-Two's $12.7B acquisition of Zynga, 2022 indeed promises to be yet another amazing year for the gaming industry.
On another note, we're extremely happy to announce our partnership with the good friends at Hiro Capital, who are now sponsoring InvestGame Weekly Digests. Hiro Capital is a technology Venture Capital fund which invests in the UK, European, and North American innovators in Games, Esports, and Digital Sport. Hiro Capital team believes that Games, Esports, Dsports, and Metaverse technologies will be a central pillar of Entertainment, Economic, and Social Life in the mid 21st century.
Hiro Capital was founded in 2019 by Luke Alvarez, Cherry Freeman, and Sir Ian Livingstone CBE, who has recently received a Knighthood as part of the 2022 New Years Honours List, for services to the Online Gaming Industry. The Hiro team have co-founded and angeled over $9B worth of some extraordinary games, sports and technology companies.
Now to this week's news.
US-based video game company Take-Two Interactive (NASDAQ: TTWO) has entered into an agreement to acquire US-based mobile game developer and publisher Zynga Inc. (Nasdaq: ZNGA) for a total enterprise value of $12.7B. The enterprise value comes from a $9.681 price per share, paid $3.5 in cash, and $6.361 in shares. Thus, the transaction represents a 64% premium to Zynga's closing share price on January 7, 2022.
The transaction is still subject to the approval of both Take-Two and Zynga stockholders and other customary closing conditions. The deal is expected to be closed in the first half of the year. After the transaction, the combined company will be led by Strauss Zelnick, the Chairman, and CEO of Take-Two, while the management of Zynga will be responsible for the mobile initiatives of the combined company.
Under the merger agreement, Zynga and its Board of Directors may negotiate with other companies regarding the M&A opportunities during a 45-day period, expiring on February 24, 2022. We can assume that this fact partially explains such a high premium of 64% to Zynga's share price.
After the transaction is closed, the current Take-Two stockholders will own between 67.2% and 70.4% of the combined company on a fully diluted basis, while current Zynga stockholders are expected to own between 29.6% and 32.8% of the shares — this includes the shares associated with expected settlement of Zynga's two outstanding series of convertible notes due 2024 and 2022.
To finance the cash component of the transaction, Take-Two has received committed financing of $2.7B from J.P. Morgan, and will also use cash from its balance sheet and proceeds from the new debt issuance.
Strategic rationale
Being one of the most successful and influential PC&сonsole gaming companies, Take-Two was also trying to diversify its revenue streams and product portfolio by entering mobile segment through M&A:
— In 2017, the company made its first mobile gaming acquisition, buying Spain-based free-to-play games developer Social Point for $250m;
— In 2020, Take-Two acquired US-based mobile match games developer Playdots for $192m;
— In 2021, the company purchased Serbia-based mobile game developer Nordeus for up to $378m, best known for its football management game Top Eleven.
Those acquisitions allowed Take-Two to significantly expand into the mobile gaming space. The acquired studios showed a decent performance with such games as Dragon City, Monster Legends, Two Dots, and Top Eleven, but they were not enough for mobile to become one of the key Revenue sources of the company: in FY'21, only 8% of Net Bookings came from the mobile segment.
With acquiring Zynga, Take-Two can immediately establish itself as one of the largest players in the mobile gaming industry. For the FY'23, mobile is expected to generate over 50% of the combined company's Net Bookings. This will allow Take-Two to rely more on Recurrent Consumer Spending (RCS) which will reduce the financial volatility between the releases of its PC&console titles. The combined company is expected to add over $500m of incremental annual Net Bookings over time.
Zynga's experience will also allow Take-Two to utilize the potential of its well-established IPs, expanding them to mobile. The success of Harry Potter: Puzzles & Spells (over $114m lifetime Revenue, according to AppMagic) shows that Zynga knows how to work with third-party IPs.
Apart from the significant diversification of the portfolio, the company is expected to cut $100m of annual costs, due to the rationalization of duplicative overhead and optimization of administrative expenses.
Zynga's Financial Performance
As for Zynga, the company generated $1.97B Revenue (+49% YoY) and $2.2B of Bookings in the year ended 31 December 2020. The company showed rapid growth over the last several years. This was possible not only by the strong games pipeline but also due to the company's recent M&A activity:
— In October 2020, Zynga Inc. completed the acquisition of 80% of the shares in Turkey-based hyper-casual game developer & publisher Rollic Games for $180m, which is $12m higher than the originally announced purchase price of $168m;
— In July 2020, Zynga purchased Turkey-based mobile casual puzzle games developer Peak Games for approximately $2B, as stated in the company's report;
— In January 2019, Zynga has bought Finland-based mobile RPG puzzle game developer Small Giant Games for an implied valuation of $743m.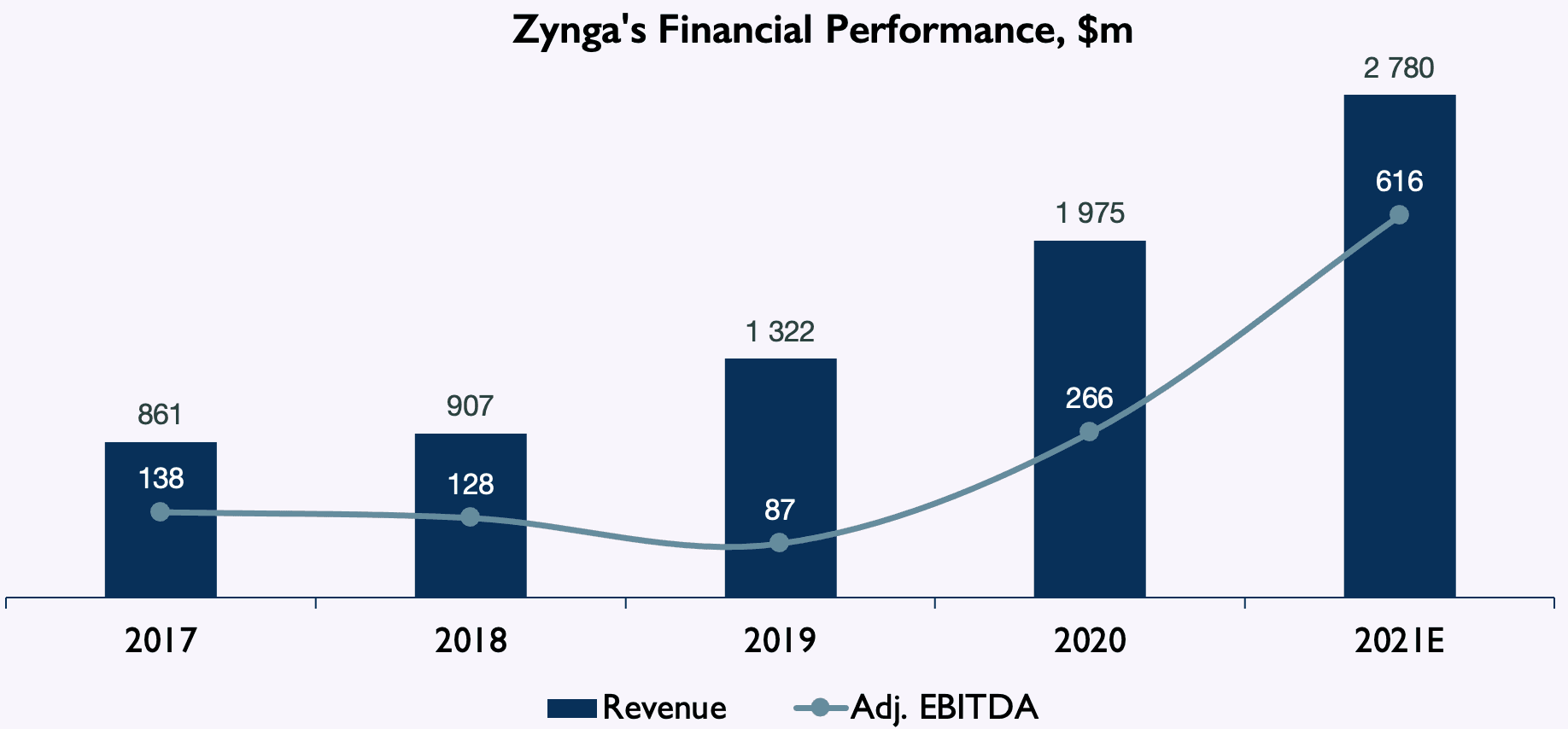 Overall, the direction of Take-Two towards the mobile was somewhat obvious. After the Nordeus acquisition, our assumption was to expect further moves in mobile from the company, since it was clearly underrepresented in mobile, and it was a matter of time for Take-Two to diversify its portfolio either by the series of minor deals or by a couple ofmegadeals. Pursuing the same goal, Activision Blizzard acquired King, Electronic Arts bought Glu Mobile and Playdemic, and Embracer purchased Easybrain, CrazyLabs, and DECA Games (along with several other mobile companies). However, the merger of Take-Two and Zynga was really hard to predict. 2022 starts with a blast, and we hope to see more of such huge and influential transactions this year.
This InvestGame Weekly Digest is supported by Hiro Capital, investors in the future.
MERGERS & ACQUISITIONS
UPDATE: US-based mobile gaming and monetization company AppLovin (NASDAQ: APP) has completed the acquisition of mobile monetization platform MoPub from Twitter (NYSE: TWTR) for $1.05B. The deal was covered in detail in our Weekly News Digest #40.
South Korea-based esports organisation DRX announced the acquisition of ​​another Korea-based esports organisation Vision Strikers and its parent company DreamWork Korea. The terms of the deal are not disclosed; Vision Strikers is expected to merge with DRX in the near future.
UK-based multiplatform games publisher and developer Team17 (LON: TM17) has announced 2 acquisitions:
— purchase of IP Hell Let Loose for up to ~$62.4m in cash and shares (~$42m initial consideration and ~$20.4m an earn-out based on 2 years performance) from Australia-based indie games publisher and developer Black Matter;
— purchase of US-based indie publisher The Label for up to $40m in cash and shares ($24m initial consideration and possible earn-out of up to $16m based on 3 years performance).
Team 17 continues to increase both its portfolio and its production power, and these deals could facilitate the company's inorganic growth.
VENTURE FINANCING
Tokyo-based gaming company Nexon (TYO: 3659) has invested $400m in US-based independent film and television production company AGBO Films. The company was founded in 2017 by Russo Brothers — mostly known for working on the Marvel Cinematic Universe. The investment will support the expansion of the company's IP to film and television segments. The investment brings AGBO's valuation to approximately $1.1B. The deal also includes a potential additional investment of $100m from Nexon in the first half of 2022 upon AGBO request.
France-based esports organisation Team Vitality has raised ~$56.6m in funding. The round was led by UK-based esports venture fund Rewired GG, which has already made two investments in the company: ~$15.9m in 2019 and ~$22.7m in 2018. The funding will be used for the further development of high-class European esports teams in different disciplines.
Israel-based content creation and distribution platform Overwolf has invested an undisclosed amount in Singapore-based blockchain-powered P2E game Syn City. The project has already raised above $8m in total. The game, which is said to be the first kind of mafia metaverse, can possibly collaborate with Overwolf platform in the future.
Vietnam-based blockchain P2E gaming startup Starbots has raised $2.4m in funding. Impossible Finance, DeFi Alliance, Solar Eco Fund, and others have participated in the round. The funding will go towards the further development of an 'auto-battlebot' game on the Solana blockchain.
Blockchain-powered P2E gaming startup Ancient Kingdom has raised $3.6m from DAO Maker, AU21 Capital, Reblock Vendetta, and others. In addition to the investment, DAO Maker formed a partnership with the startup. The funding will be used for further development of the martial arts game Ancient Kingdom and the blockchain-based real-time gaming platform.
Subscribe for our weekly newsletter
Get the weekly digest on all the latest gaming transactions, with the number and size of the deals, as well as the strategic rationale behind them.