31 May — 6 Jun / 2021
Weekly News Digest #22
announced deals' size

$546.9m
Q1
CD Projekt RED Q1 financial results — turbulent times, but promising future
FINANCIALS
01 JUN 21
Take-Two Acquires Mobile Games Developer Nordeus for up to $378
M&A
31 MAY 21
Fragbite Group acquired Playdigious for up to $10.4m
M&A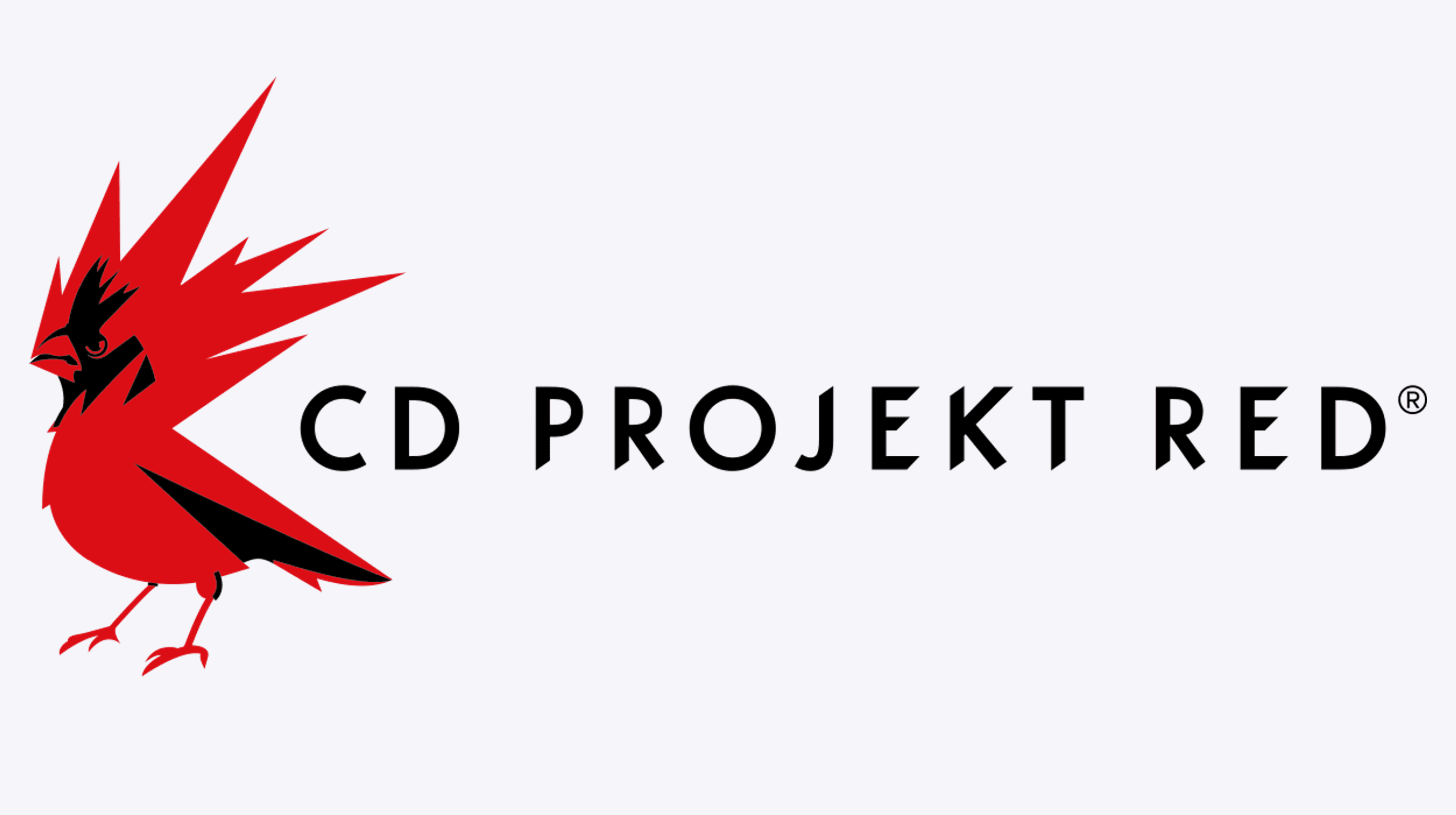 Poland-based games developer and publisher CD Projekt RED (GPW:CDR) released Q1'21 financial results, showing $53.9m quarterly Revenue and $11.8m EBIT.
---
Note: This content is for informational purposes only, and is not to be perceived as financial advice.
Written by InvestGame team members: Andrei Zubov, Vladimir Sergeevykh, and Anton Gorodetsky.
---
Significant revenue and profit drop after the strong launch of Cyberpunk 2077
| | | | | | |
| --- | --- | --- | --- | --- | --- |
| in $'000 | Q1 2021 | Q1 2020 | Q1'20 vs. Q1'20 | Q4 2020 | Q1'21 vs. Q4'20 |
| Revenue |   53,9 |   52,6 |   2.5% | 455,6    | -88.2% |
| EBIT |   11,8 |   26,6 | -55.6% | 265,4    | -95.5% |
| EBIT margin, % |           21.9% |           50.6% |   |           58.4% |   |
Source: S&P Capital IQ 
The company's business is still based on a hit-driven model which directly depends on box sales of the titles. The revenue generated in Q4'20, when Cyberpunk 2077 was released, turned out to be higher than the total revenue the company saw during the five previous years. However, we observe a more than 8x times drop in revenue from $455.6m in Q4'20 compared to $53.9m in Q1'21. In addition, EBIT dropped more than x22 times from $265.4m in Q4'20 to $11.8m in Q1'21.
Such a decline and inability to meet the investors' expectations have significantly impacted the market capitalization which dropped from $11.6B on the Cyberpunk 2077 release date (Dec 4, 2020) to the current $4.7B (Jun 4, 2021). During the investor call after Q1'21 results announcement, CDPR revealed that it failed to meet the forecasted Net Income of ~$21.9m for the quarter, and instead generated only ~$8.9m.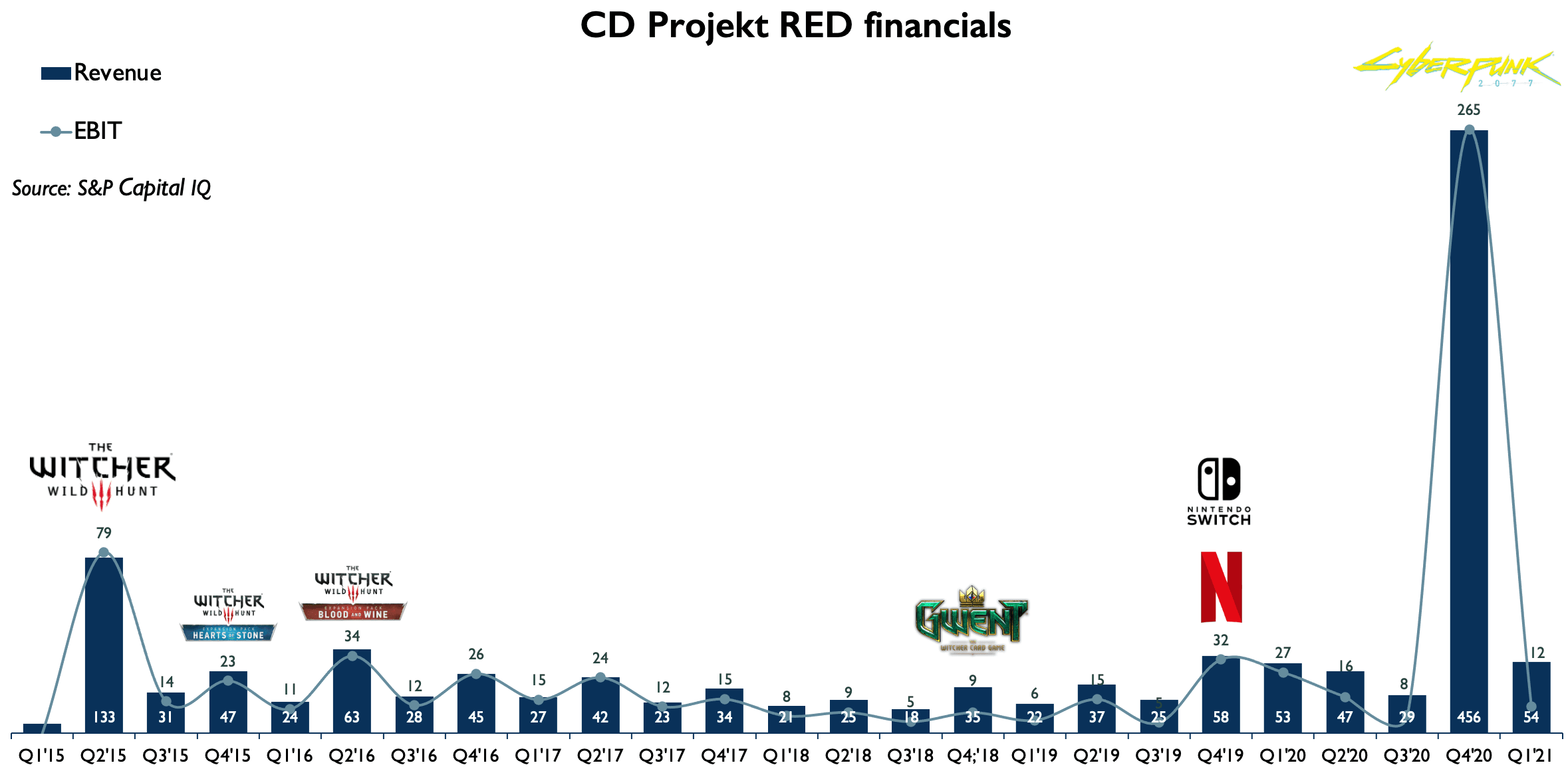 Source: S&P Capital IQ 
Absence of YoY growth:
Comparing the revenue in Q1'21 with Q1'20, we observe a plateau (+2% YoY). This is a result of unusually strong sales in Q1'20 what with increased interest in The Witcher franchise driven by the Netflix show, Nintendo Switch port, and COVID-19 lockdown. At the same time, we saw a dramatic drop in Cyberpunk 2077 sales performance in Q1'21.
Significant profitability decrease
CDPR reported an increase in the costs of products and services sold by +208% (vs. Q1'20) and G&A expenses by 156%. This is the influence of the ongoing Cyberpunk 2077 development and the announced switch to parallel AAA games production. Currently, the company requires more staff and resources for Cyberpunk 2077 updates and hotfixes. No surprise that CDPR acquired its long-term partner Canada-based developer Digital Scapes (now CD Projekt RED Vancouver) which will be involved in further game development. The company also saw a significant increase in selling costs (31% of revenue in Q1'21 vs. 18% in Q1'20).
Strategy — parallel development and the franchise expansion
CDPR will continue to build on its two strongest franchises.
1) The company has already expanded The Witcher franchise with three games: Thronebreaker: The Witcher Tales (multiplatform story-driven CCG), Monster Slayer (mobile AR game), and Gwent (multiplatform CCG). In addition, CDPR has its own Merchandise shop, built on the two IPs. We shouldn't forget, of course, that season 2 of The Witcher series, which proved to be a huge success and brought a lot of new players to The Witcher 3 game, is expected in 2021.
The company will continue its expansion into other media, including videos, music, merchandise, and mobile games. In Feb'21, CDPR announced its new board game The Witcher: Old World made in collaboration with GO ON BOARD publishers. The game will expand The Witcher universe, taking place many years before the Geralt of Rivia storyline. Two versions of the game, Polish and English, are expected to be released on Apr'22. Netflix and CDPR have also announced a partnership with the anime house Trigger, Inc. to produce a Cyberpunk 2077 animated series called Cyberpunk Edgerunners.
2) Despite technical issues with Cyberpunk 2077, which negatively impacted the company's reputation and the product itself, CDPR still has high expectations about the future of the title, especially its next-gen version. Right now the game is still not for sale in the PS Store and CDPR is yet to reach the biggest console community.
While having a clear interest in leveraging Cyberpunk 2077 in media, the main changes in the strategy are still about the core AAA titles — CDPR plans to start parallel AAA development in 2022. For now, the company still sticks to the sequential model, which is considered to be one of the reasons for Cyberpunk 2077's long development cycle.
Moving to parallel AAA games production is a huge step for the company, especially when it is in need of development capabilities, as it has to finish fixing Cyberpunk 2077 and release the announced DLCs. To support the strategy implementation, a few months ago the company acquired a Digital Scapes studio and plans to do so further to increase production and live-ops capacity.
3) The company plans to continue to broaden the RPG genre scope, by adding more elements to it. The Witcher 3 brought the action to pure RPG, while Cyberpunk 2077 added shooter elements to the formula. Additionally, CDPR will focus more on online experiences. Online expansion is actually one of the cornerstones of the company's strategy, as it plans to work on its GOG galaxy store and build a gaming community around it.
What's next?
These are clearly the most turbulent times for the company:
— The market cap is on 2018-2019 levels
— The financial benchmarks are not met
— The roadmap of Cyberpunk 2077 update and DLCs is vague
— Game director of The Witcher 3 and Cyberpunk 2077 Mateusz Tomaszkiewicz left the company
— The hackers stole the Cyberpunk 2077 and The Witcher 3 source codes
This is not an easy year, but the success of The Witcher shows that the company knows how to develop a franchise, significantly improving it over time and building the media ecosystem around it. That is why we believe in the long-term success of Cyberpunk 2077 and CD Projekt RED at large.
US-based video game company Take-Two Interactive Software, Inc. (NASDAQ:TTWO) has acquired 94.5% of Serbia-based mobile game developer Nordeus for up to $378m, including:
— $225m upfront, paid  $135m in cash and $90m in newly issued Take-Two shares (the number of shares calculated by dividing $90m by the weighted average closing price per share on the Nasdaq Global Select Market during the thirty trading day period ending on the second trading day prior to the closing date)
— $153m earn-out if certain undisclosed EBITDA thresholds are reached during each of the two years
Take-Two has an option to acquire the remaining 5.5% stake in the studio for around $12.4m in cash.
Strategic Rationale
Take-Two gets to expand its operations into Eastern Europe, which has recently begun gaining attention from many game developers, also aiding Nordeus in their endeavor to "put Serbia on the global map of gaming".
With the acquisition, Take-Two not only continues its expansion to the mobile business but also broadens its sports portfolio with the first football-related title – Top Eleven. Moreover, leveraging Take-Two's expertise in publishing and live operations, Nordeus can potentially improve its financial performance over the next few years.
Nordeus — business overview
Founded in 2010, Nordeus is a mobile game developer, known for the world's most successful mobile football management game Top Eleven.
Source: AppMagic
Being the longest-lasting football franchise (10 years), Top Eleven remains Nordeus' bestseller with 240 million registered users and around 78 million downloads over the years. The downloads peaked in June 2016 when they reached 2.1 million. In July 2019, Nordeus launched a mobile strategy battle game Heroic – Magic Duel which has been downloaded more than 3.8 million times.
What's next?
During the 2021-2025 period, Take-Two plans to release 21 games. We don't know much about the titles, but we can presume that some of them are for the mobile platform. Take-Two is clearly set to further expand its influence in the mobile gaming market and it has already made two other acquisitions in the segment, apart from Nordeus, buying Socialpoint in 2017 and Playdots in 2020. Considering the resources on hand and well-established IPs in the portfolio, we may expect Take-Two to become a new series player on the mobile gaming market.
Written  Andrei Zubov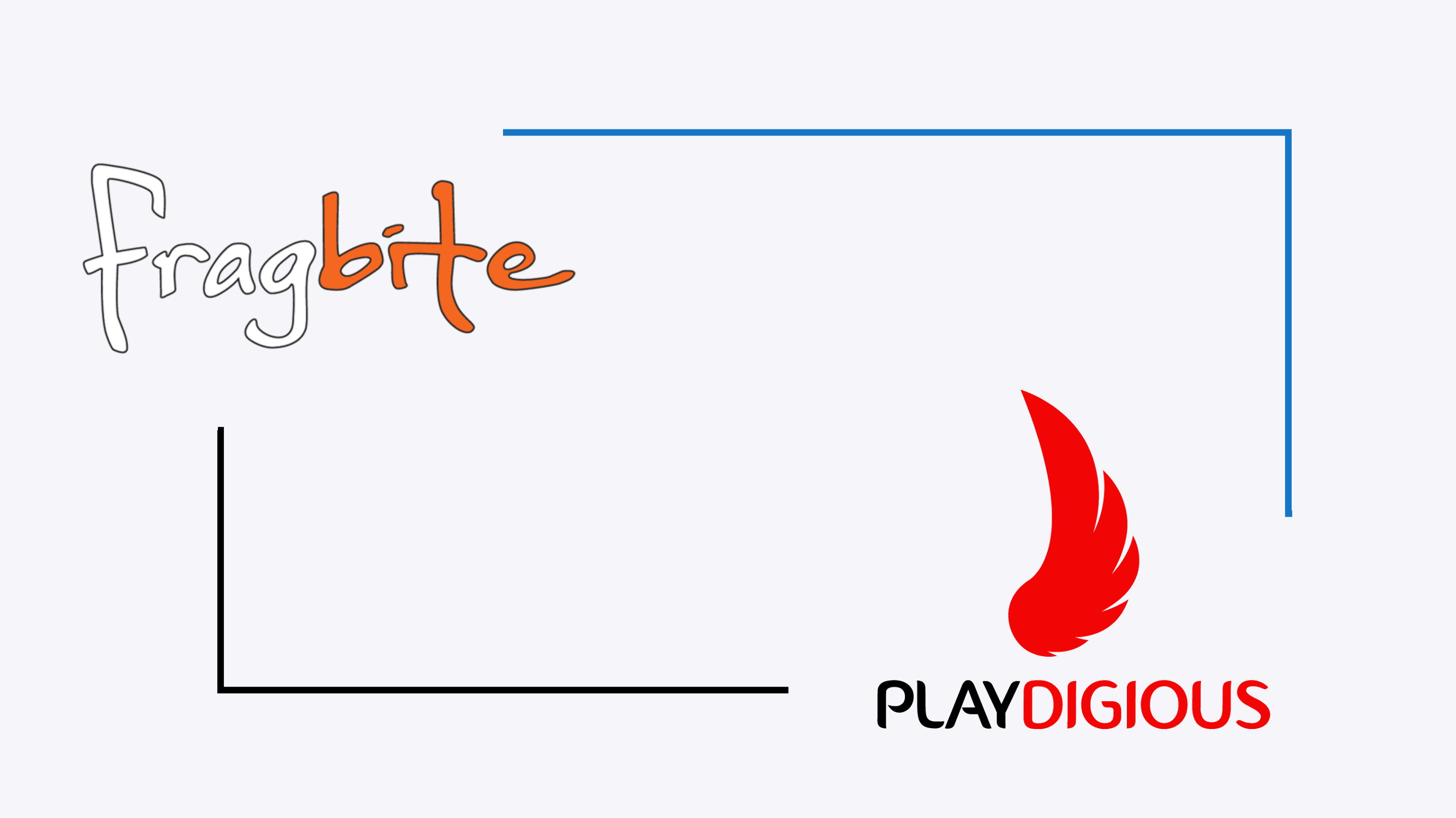 Sweden-based group of gaming and esports companies Fragbite Group (also known as FunRock) has acquired 100% of indie games publisher Playdigious for up to $10.4m (€8.5m) in cash and shares, including:
— $6.1(€5m) upfront, paid 60% in cash and 40% in the form of newly issued Fragbite shares. The issued shares are subject to a lock-up of 12 months
— Several earn-out considerations for a total of $4.26m (€3.5m), paid 50% in cash and 50% in newly issued shares in the period from 2021 to 2023 if the company achieves certain income and profit targets
Based on the expected Playdigious' financials for the year of 2020/21 (Revenue of $4.86 (€4m) and EBITDA of over $730k (€600k)) the transaction multiples are:
| | | |
| --- | --- | --- |
| Multiples | w/o Earn-outs | w/ Earn-outs |
| EV/Revenue | 1.2х | 2.1х |
| EV/EBITDA | 8.3х | 14.2х |
Founded in 2015, Playdigious is known for porting premium indie games to mobile. Some of the recent notable ports include:
— In April 2021, the company ported Shiro Games' RTS in a Scandinavian setting Northgaard to iOS
— In February 2021, Playdigious launched Souls-like 2D action Dead Cells from Motion Twin on mobile in China. The game has been sold over 1 million units there and is undergoing strong growth right now
Some of the games ported by the company to mobile also include: Card game Cultist Simulator, puzzle The Almost Gone, simulation game Turmoil, and RPG Evoland. Playdigious will help Fragbite Group open new publishing and porting division for indie titles.
Written  Andrei Zubov
MERGERS & ACQUISITIONS
UPDATE: Stockholm-based investment holding company with assets in esports and gaming Modern Times Group has completed the acquisition of New Zealand-based mobile tower defense games developer Ninja Kiwi. The total consideration of the deals equals $189m and consists of $141.4m upfront and several earn-outs. You can read more about the deal here.
UPDATE: American PC hardware company HP has completed the acquisition of the US-­based gaming peripherals manufacturer HyperX for $425m from Kingston Technology Company. The deal includes such gaming peripherals as headsets, keyboards, mice, mousepads, USB microphones, and console accessories. The remaining part (DRAM, flash, and SSD products) remains under Kingston.
San-Francisco-based mobile platform for competitive matchmaking Skillz (NYSE:SKLZ) has entered into an agreement to acquire US-based data-driven mobile advertising software company Aarki Inc. for $150m. The deal is expected to be closed in Q3'21.
Facebook has acquired Unit 2 Games, a developer behind user-generated games platform Crayta, which is now going to support the Facebook Gaming ecosystem.
VENTURE FINANCING
Estonia-based mobile game developer Clickwork Games has secured $1.2m of Seed funding in a round led by Play Ventures with participation from the founder of Elite Game Developers Joakim Achrén.
Finland-based HTML5-powered social games developer Quicksave Interactive has raised $1.3m in a Seed round led by Konvoy Ventures, with participation from Sisu Game Ventures, Raptor Group, and Lago Innovation.
Shanghai-based esports company VSPN (Versus Programming Network) has raised an undisclosed multi-million sum in Series B2 round led by Morgan Stanley Private Equity Asia.