back to ALL NEWS
Roblox Acquires Speechly
M&A
|
ANNOUNCEMENT DATE: 19 SEP 2023
M&A
---
This article is based on our Weekly News Digest #38 from 25.09.2023. If you want to receive such analyses first, be sure to subscribe to our weekly newsletter. There, we analyze the largest deals, elaborating on the financials and strategy behind, while also covering the smaller transactions of the week.
---
US-based game creation and multiplayer platform Roblox (NYSE: RBLX) acquires Finland-based AI voice moderation startup Speechly for an undisclosed sum. Roblox aims to enhance the moderation of voice interactions within its platform by leveraging Speechly's expertise in AI voice moderation and integration. Speechly's technology is expected to address challenges related to abuse and antisocial behavior in voice chat, improving the overall player experience and platform growth.
Speechly was founded in 2016 and is developing its eponymous AI platform for real-time speech recognition and tools natural language understanding for gaming, metaverse, and other audio content. The tools can be used for voice chat moderation and for interaction with the gaming environment. The company claims its product can detect profanities, abuse and toxicity in real time, enabling its users to instantly filter all the unacceptable content.
For Roblox, social moderation might be even more important than for many other gaming companies. The platform has over 65 million DAU, 45% of which are players under 12 years old, meaning that approximately 30m children enter the game on a daily basis. For Roblox the younger players are not only a large loyal audience, but also a great responsibility. For example, we saw Roblox being accused of child gambling because of loot boxes in some of the experiences — in Sep'22 one of the biggest Roblox hits Adopt Me was shut down in The Netherlands and Belgium to comply with the local anti-loot boxes laws. The most recent scandal involved third-party services that sell Robux, an in-game currency of Roblox, using gambling mechanics.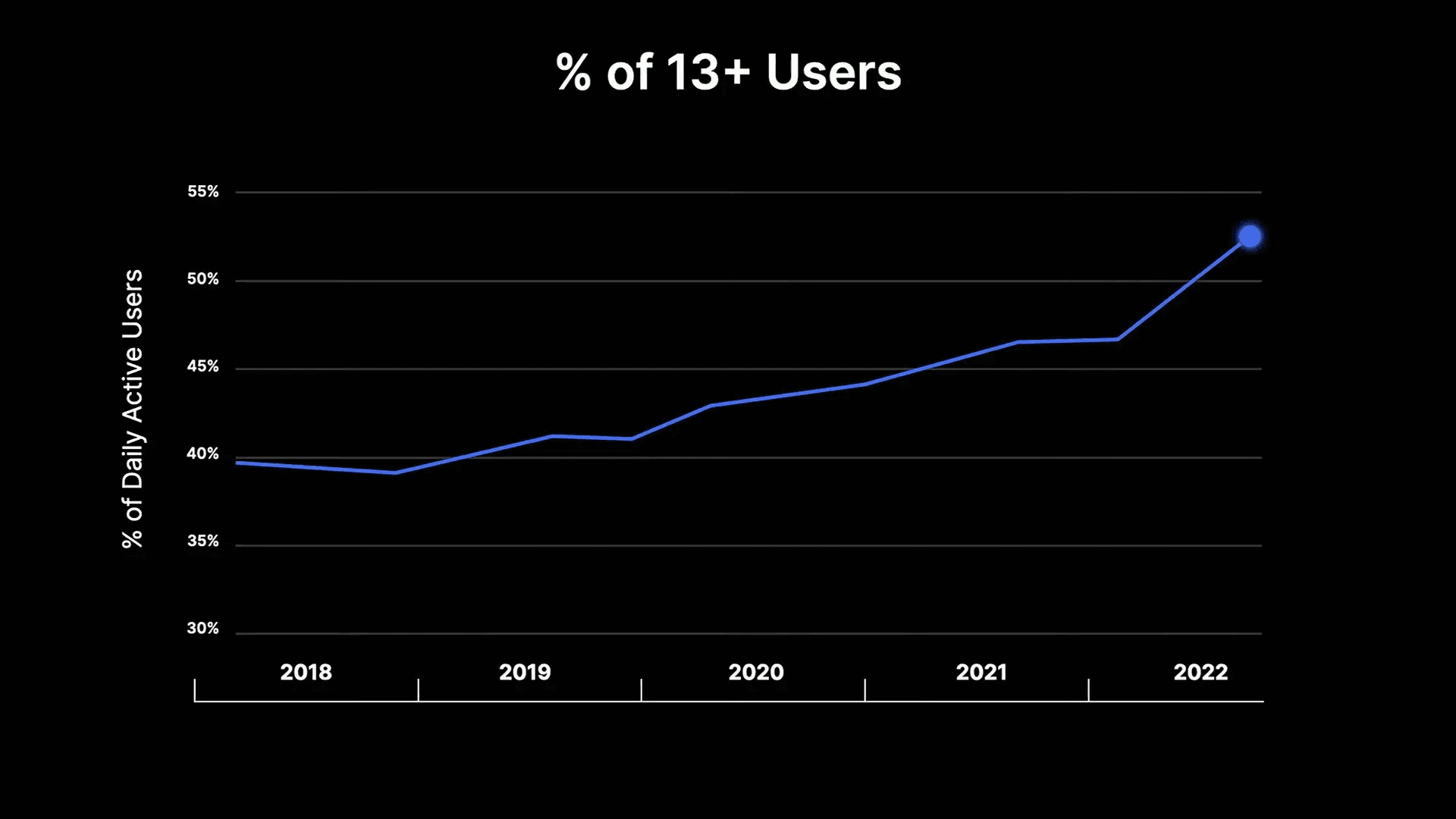 Source: Roblox
Being a public company, Roblox must care about its reputation much more than its peers from the private sector. That is why it is critical for the company to fight against any source of bullying and verbal abuse. Besides, the company now pays a lot of attention to bringing an older audience to the game which might potentially increase the risk of conflict between the generations.
While the majority of Roblox users are players under 12, the company states that in 2022 "DAU from 17 to 24-year-old user age group grew faster than any other age group", growing from 19% of the total audience in 2021 to 21% in 2022. The age demographic expansion is one of the main points of Roblox's growth strategy. The company aims to expand its platform into new verticals, such as education, communication, and marketing, increase its global reach, and further elaborate its monetization system. The AI voice recognition platform might be one of the elements to smooth the onboarding of new audiences to Roblox.
To put this growth into a perspective, let's have a quick look at Roblox's performance lately. On June 30, 2023 Roblox reported 65.5 million DAU showing a solid 25% YoY growth. For the last twelve months (LTM) ended in Jun'23, the company reported $2.4B Revenue (10% YoY growth), with $3.2B in Bookings (18% YoY growth). Adjusted EBITDA, on the contrary, was 13% down, declining from $426.4m to $324.9m. The decline is caused by the increased spendings on Research & Development as well as expenses on data centers and technical infrastructure — together, they accounted for $540m showing a 45% YoY cost growth in Q2'23.
Looking at the graph below, you can also see spikes in adj. EBITDA observed every fourth quarter of the year. This is explained by the company's use of a subscription-based monetization model. Consequently, certain portions of Revenue are deferred to future periods. However, in the fourth quarters, a larger portion of Deferred Revenue is reevaluated in the adj. EBITDA calculation due to the closing of the fiscal year, so let it not confuse you.

Source: Roblox Financials, in $m
Overall, we see that Roblox shows consistent growth and continues to reinvest its Cash Flows to accelerate the growth of the company. One of the pillars of this growth is the company's work with the developers that provide content for the platform — 4.8 million of content creators were reported to work with Roblox as of June 30, 2023. In the 2021-2022 period, real-money earnings to the developers were $1.1B, which is a big chunk of the company's spending. Apart from providing the developers with the opportunity to earn (and pay ~70% fee to Roblox), the company also has its own Game Fund, which can finance and support some of the developers. This initiative can help the platform to get the experiences suitable for the new audiences it plans to attract.
Speaking of all this, we should keep in mind that the voice communication is a key element to Roblox gaming experience. Around 78% of all Roblox players access the platform via their mobile devices where typing is not as convenient as on PC. Though Speechly is not something that will ensure the growth of the company, it is something that may smooth the potential problems that may occur during the implementation of Roblox's expansion strategy. What's more, it will support the company endeavors in the AI field, which seem to become one of the essential R&D directions for the large companies of all sorts.
Source: InvestGame
The number of deals involving AI companies has grown rapidly since 2020 and continues to gain momentum. For instance, according to our data, in Q3'20 there were only 8 deals for a total of $39.4m, compared to 19 deals for up to $209.6m in Q3'23 UTD. We elaborated on this subject in our Global Gaming Deals Activity Report H1'23. More data is about to come in our future reports.
Subscribe for our weekly newsletter
Get the weekly digest on all the latest gaming transactions, with the number and size of the deals, as well as the strategic rationale behind them.