1 Nov — 7 Nov / 2021
Weekly News Digest #44
announced deals' size

$589m
Devolver goes public at $950m valuation and acquires three gaming studios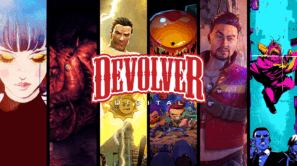 Texas-based indie game publisher Devolver Digital went public on the London Stock Exchange raising $261m at $950m valuation. The company is listed under the ticker symbol "DEVO".
Devolver will keep only $50m of the proceeds — the other $211m will be shared between the selling shareholders, including the management team and China-based tech giant NetEase. Devolver will use the proceeds to increase its M&A activity, scale internal teams and in-house production, and increase its project financing capabilities for the current and back-catalog games.
There were two notable changes in the shareholders structure:
— NetEase Entities and FortuneEase L.P sold 5.6% and 2.3% stakes respectively. Nevertheless, NetEase Entities will still hold the remaining 8% stake in Devolver, while FortuneEase L.P will have 1.9%;
— Sony Interactive Entertainment made its first investment in Devolver, acquiring a 5.03% stake in the company.
For the past two years, Devolver has been showing significant growth in Gross Revenue (from $58.8m in 2019 vs. $212.7m in 2020) and Adjusted EBITDA ($10.6m in 2019 vs. $80.6m in 2020).
In 2020, around 26.4% of revenue comes from North America and 26.2% comes from Asia. Other significant revenue shares are generated by Western Europe (17.9%) and Latam countries (10.2%). The majority of revenue comes from PC (45%) and console (37%) platforms, revenue from the mobile segment accounted for 14%.
To normalize the сompany's financial performance Devolder made several adjustments:
1) removed the outperformed financial impact of Fall Guys;
2) removed the proceeds from the sale of the publishing rights and IPs;
3) added back the Founder bonuses.
A few days after going public Devolver announced the acquisition of three gaming studios it has previously worked with:
— Dodge Roll, a studio behind the successful rogue-like game for PC&console Enter The Gungeon;
— Nerial, a mobile gaming studio known for its Reigns: Beyond game available on Apple Arcade;
— FireFly Studios, an experienced PC&сonsole strategy games developer behind Stronghold series.
Founded in 2009, Devolver is an indie PC&console games publisher, known for Hotline Miami, Katana Zero, Gris, Serious Sam, and other acclaimed titles. Last year Devolver published a multiplayer hit Fall Guys (developed by Tonic Media Group which was acquired by Epic Games in Mar'21). Earlier this year, Devolver also acquired Croteam, a developer behind Serious Sam franchise, and released another hit idle game Loop Hero — a game developed by Russian developer Four Quarters, which reached over 500k downloads on Steam within its first week. And recently, Devolver published the hit indie СCG title Inscryption — 250k copies sold less than a month from the release date.
MERGERS & ACQUISITIONS
US-based Statespace, the parent company of FPS aim training platform Aim Lab has announced the acquisition of US-based online coaching platform ProGuides for an undisclosed sum. The purpose of the acquisition is to integrate Aim Lab into available courses to provide players with more methods to improve their skills.
Isle of Man-based esports firm X7 Esports has acquired UK-based esports company Absolved, known for its strong League of Legends division. The details of the deal are not disclosed.
VENTURE FINANCING
Cyprus-based mobile game developer Kek Entertainment has raised $3m in a pre-Seed funding round with participation from The Games Fund and Play Ventures. The proceeds will accelerate the growth of the team and the development of its first title — "a competitive mobile action game with deep tactical elements".
Canada-based studio behind user-generated gaming platform on the Ethereum blockchain The Sandbox has raised $93m from Softbank Vision Fund 2. The funding will be used to grow The Sandbox open NFT metaverse.
Australia-based developer of an AI-powered Roblox game that allows players to create music and perform to live audiences in virtual venues Splash has raised $20m in Series A round, co-led by Amazon's Alexa Fund and Bitkraft Ventures. The investment will be used to improve Splash AI-powered virtual instruments, grow the Splash community, and establish key partnerships in gaming, entertainment, and music.
US-based gaming startup Omni Creator Products has raised $4.3m investment in a round led by Upfront Ventures. The proceeds will be used to finance the development of the company's first product — an accessible no-code game creation platform.
US-based live operations platform Beamable has raised $5m in a new round of funding, led by Companyon Ventures and GrandBanks Capital. This is the second round the company closed this year — in Feb'21 it raised another $5m investment.
US-based NFT virtual real estate game developer Upland has raised $18m at a $300m valuation. The round was led by Animoca Brands with participation from C3 Management, and others. The funding will be used for increasing the company's staff and investing in user acquisition.
US-based blockchain game developer Faraway has raised $21m in the funding round. Lightspeed Venture Partners and FTX led the round. The funding will be used to unlock player-driven and decentralized game economies and to launch browser-based title Mini Royale: Nations.
US-based studio Core Loop has closed its second investment round, raising $12m in a round led by Andreessen Horowitz. The proceeds will support the development of its yet announced NFT-based MMO game.
US-based Gwoop has secured $1.85m of Seed funding for its esports training platform with mini-games on reaction, accuracy, and speed.
US-based Mythical Games has raised $150m at $1.25B valuation to launch Blankos Block Party — an open-world multiplayer game, powered with blockchain technology and focused on NFTs. This is the fourth round of the company. Previously, Mythical Games raised $75m in Jun'21, $19m in Nov'20, and $16m in Nov'18.
FUNDRAISING
Solana Ventures, Lightspeed Venture Partners, and FTX have announced a $100m investment fund. It will focus on investments in web3 gaming and the first deal is already done — Faraway's $21m round mentioned above.
Subscribe for our weekly newsletter
Get the weekly digest on all the latest gaming transactions, with the number and size of the deals, as well as the strategic rationale behind them.