29 Nov — 5 Dec / 2021
Weekly News Digest #48
announced deals' size

$2B
Unity closes $1.625B acquisition of Weta Digital
Nordisk Games acquires Flashbulb Games and Nitro Games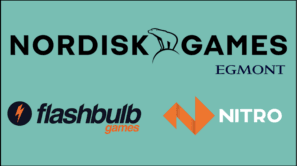 Zordix has acquired Maximum Games for up to $72m
Sweden-based multiplatform games developer Zordix has announced the transformative acquisition of US-based PC&console games publisher and distributor Maximum Games for up to $72m, including:
— $42m upfront consideration, paid $50% in cash and 50% in newly issued shares;
— $30m of three years estimated earn-out payment, paid $50% in cash and 50% in newly issued shares.
Based on Maximum Games estimated financial performance for 2021 (Revenue of $73.7m and EBITDA of $6.3m) the transaction multiples are:
As part of the deal, Zordix will also lend $10m in several installments over the next 18 months to support further growth of the studio.
Founded in 2009, California-based Maximum Games publishes games and distributes physical versions of PC&console titles. The company also helps studios with funding, development, porting, publishing, QA, localization, PR, and marketing. At the moment of writing, Maximum Games offers a deluxe version of Kena: Bridge of Spirits and three versions of Among Us physical editions.
Zordix significantly increases its business scale — the upfront size of the deal represents over 40% of the current buyer's market cap ($112m). In the Q1-Q3 2021 period, Maximum Games generated 36% more Revenue than Zordix. With this transformative acquisition, Zordix gets an established distribution infrastructure and expands its capabilities and IPs portfolio to become one of the leading AA games publishers in the world.
*SEC to USD = 0.117 
US-based AR-entertainment company Niantic has announced the acquisition of US-­based instant videogame replays startup Lowkey for an undisclosed fee.
Founded in 2020 and based in San Francisco, Lowkey creates a solution that allows players to capture in-game moments and easily share them on social media. Earlier this year, in Mar'21, the startup raised $7m from a16z and several angel investors.
This acquisition goes in line with Niantic's strategy to build 'real-world metaverse' through the creation of social games that motivate people to interact with each other and the world outside them. Lowkey is built on the gamers' desire to share their experience with their friends and community, so the platform's integration into Niantic's products is another step to the company's interpretation of the metaverse.
Last week Niantic received a $300m investment from Coatue at a $9B valuation. The funding will be used to finance the LiveOps of the company's current games, create new apps, and further develop the Lightship ARDK platform. You can find more about this deal in our previous digest.
US-based software giant Unity has closed the acquisition of New Zealand-based visual effects company co-founded by Peter Jackson Weta Digital for $1.625B paid in $1B in cash and $625m in Unity's common stock. The deal was initially announced on November 18, 2021.
With the acquisition, Unity gets access to all VFX tools developed by the company, and a team of VFX artists and engineers. Moreover, Unity will also get access to the massive catalog of developed digital assets, intellectual properties, and core pipelines owned by Weta.
Last week, Unity also announced the acquisition of a US-based platform for visual communication SyncSketch. The terms of the deal were not disclosed. SyncSketch develops collaboration tools that allow teams to seamlessly communicate, share feedback, and contribute to creative projects — in real-time. With the acquisition, Unity not only strengthens its production power but also adds a new product to its portfolio.
Denmark-based equity investment company Nordisk Games acquires 100% of shares of Denmark-based PC&console games developer Flashbulb Games. The acquisition solidifies the relationships that started back in 2017 when Nordisk invested ~$1.44m in the studio.
Founded in 2016, the studio is known for Trailmakers — the physics-based, open-world build-em-up title. The terms of the deal are not disclosed but most probably will depend on the upcoming new title of Flashbulb — Rubber Bandits, a cross-platform multiplayer party game for PC and consoles.
In addition to this deal, Nordisk decided to increase its share and became a majority shareholder in Finland-based games developer Nitro Games.
In May 2020, the company made its first investment of ~$5m in Nitro Games, which included subscription for the newly issued shares for the total price of ~$2.8m and a convertible loan of ~$2.2m. Now Nordisk decided to convert the convertible loan into shares and increase its ownership in Nitro Games to approximately 50.37%.
Founded in 2007, Nitro Games is a publicly-traded mobile game development company (OM:NITRO) behind such games as NERF: Battle Arena, Lootland, and Go Hunt.
MERGERS & ACQUISITIONS
Canada-based Pioneer Media Holdings, an investment company with interests in NFTs, gaming, esports, and mobile gaming, has completed the acquisition of UK-based blockchain games developer Kodoku Studios for ~$664k. The company is currently working on The Pit — a platform for gamers to stake their NFTs, which also allows gamers to attempt to increase the inherent value of their NFTs through 'NFT warfare' in a PVP gaming arena.
VENTURE FINANCING
Finland-based MMO games developer Mainframe Industries has raised ~$22.6m in Series B funding. The round was led by Andreessen Horowitz with the participation of all previous investors, including Riot Games, Play Ventures, and Sisu Game Ventures. The funding will be used for the development of the debut title — a cross-platform 'cloud-native MMO', and to increase the production power of the developer by adding more staff.
UK-based Roblox games developer Talewind Studios has raised $3.4m in the recent round of funding. Animoca Brands, Firstminute Capital, 1UP Ventures, and PROfounders have participated in this round. The funding will be put towards hiring new staff to develop Breezy Bay — a new casual title for the Roblox platform.
Israeli-based mobile games developer Sneaky Panda has raised $6m in Seed funding. The round was led by Bitkraft Ventures with participation from FireArc, Remagine Ventures, and others. The funding will be used for the further development of the mobile debut-title in a new genre which the developer calls 'luck-puzzler', and for hiring additional staff.
UK-based game studio ​​​​World Makers has received $3m in Seed funding. The round was led by Makers Fund. World Makers is the new name of the former Automaton Games which secured the funding in 2017 for its battle royale title. This investment is going towards the console version of its PC multiplayer horror title Deceit.
US-based esports organisation 100 Thieves has raised $60m in Series C round. The funding was led by Green Bay Ventures with participation from Breyer Capital, Aglae Ventures, and others. The funding will help the company to further develop its esports, entertainment, and apparel businesses, and might potentially be used for new acquisitions.
Sweden-based AR/VR games developer Resolution Games acquires Sweden-based VR games developer Zero Index. Both companies know each other and cooperated on porting Resolution's game Carly and the Reaperman: Escape from the Underworld to Oculus earlier this year. The studio will be rebranded to Resolution Tech as part of the acquisition. The financial terms of the deal are not disclosed.
PUBLIC OFFERINGS
US-based SPAC targeting gaming, digital media, and other tech industries businesses UTA Acquisition Corporation announced the pricing of its initial public offering of 20,000,000 units at a price of $10.00 per unit. The company plans to attract $200m which will be used later for a SPAC merger.